Report on possible Sean Payton trade: Groundless speculation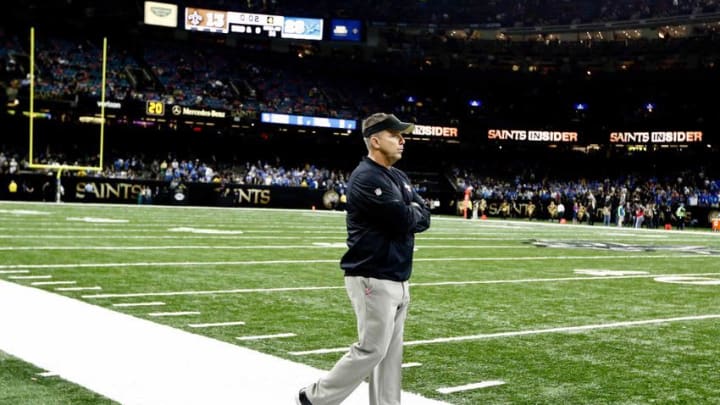 Dec 4, 2016; New Orleans, LA, USA; New Orleans Saints head coach Sean Payton against the Detroit Lions during the second half of a game at the Mercedes-Benz Superdome. The Lions defeated the Saints 28-13. Mandatory Credit: Derick E. Hingle-USA TODAY Sports /
Jason La Canfora recently reported that the Saints may be interested in trading coach Sean Payton, and that they wouldn't ask for much in return.
While I have no inside sourced confirming that this story is patently false, I find it hard to believe. For a number of reasons. I just don't see Sean Payton going anywhere.
First of all, La Canfora is notorious for branding rumors as inside information. In this case, he cites only one source, "with knowledge of the situation." I can't remember the last time Canfora broke a story about the Saints that turned out to be accurate. He famously lied about receiving a text from an NFL exec (he'd actually just stolen a photo from a Broncos radio host.) So there's no real reason to believe his sources. And hell what does it mean to have knowledge of the situation? Technically, as fans of the team, familiar with Payton, Loomis, and Benson, we all have knowledge of the situation. Doesn't make me an inside source.
Furthermore, Canfora's arguments for why the move makes sense fall flat pretty quickly.
More from Who Dat Dish
He argues that freeing up Sean Payton's $40 million contract would "go a long way in providing an influx of means to rebuild this team." That's just not accurate. We all know that coach salaries have nothing to do with the salary cap. If Tom Benson didn't want to spend that much money on his coaching staff, he wouldn't have signed Payton to a five-year extension just last year.
And let's talk about that extension. Payton has two consecutive years of 7-9, and Benson decides to sign him to a five-year extension. Payton then goes on to rebuild an improved team. The record might not be improved. But you'll have a hard time finding a fan who doesn't agree that this team is trending up. So short of making the playoffs, Payton does everything you can hope for after two bad years. Why would Benson look to get rid of him now? It doesn't make sense.
But most importantly, it just doesn't make sense from a football perspective.
Payton hasn't been the ideal coach. By any means. He's made bad personnel decisions, from players to coaching staff.
But, and I can't stress this enough, he's still the architect of one of the best offenses in football. And his personnel moves have only improved in recent years.
Yes, you can point to Junior Galette, Jairus Byrd, Malcolm Jenkins, Rob Ryan, and raise your pitchforks. But recently, with the exception perhaps of Stephone Anthony, when's the last time Payton made an egregious misstep in personnel?
Dennis Allen may not be the next Pete Carrol, but he's done a great job with his unit. James Laurinaitis may not have panned out, but by all accounts he was an asset in the locker room. I expect the Saints are very happy to have brought him in. C.J. Spiller hurt his knee very shortly after signing with the Saints, and never recovered as a player. If that's on anyone, it's on the medical staff.
Yes, he still has a few coaching changes I think everyone would like to see. Namely, firing Joe Vitt. Vitt's role on the team has always been somewhat of a mystery to me, and I don't doubt that he provides some measure of assistance to the coaching staff. But for the love of god, can we please develop a LB? Just one?
Next: How long is Sean Payton's leash?
Anyway, I'm getting off topic. What I mean to say is, Payton isn't going anywhere. He may have had interest in another team when his contract expired, but he's signed an extension. He's staying. At least for one more year.