Saints News
New Orleans Saints: How long is Sean Payton's leash?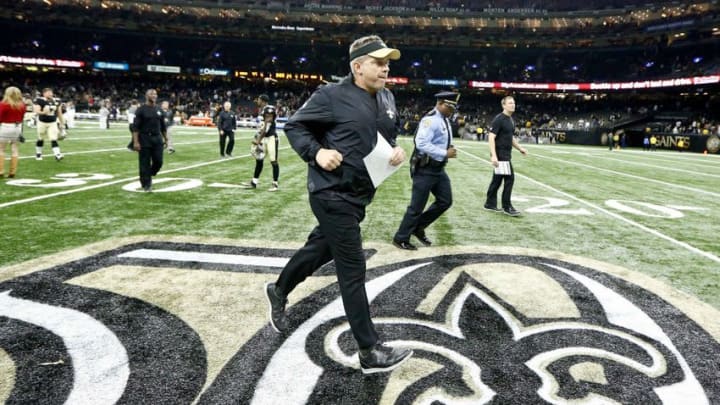 Nov 27, 2016; New Orleans, LA, USA; New Orleans Saints head coach Sean Payton runs off the field following a win against the Los Angeles Rams in a game at the Mercedes-Benz Superdome. The Saints defeated the Rams 49-21. Mandatory Credit: Derick E. Hingle-USA TODAY Sports /
Sean Payton has no doubt earned the right to be treated special like no other coach for the Saints. When he ever leaves New Orleans, the city will most likely enshrine him as "Saint Sean" for bringing home a Super Bowl. That being said, every legacy comes to a hault. The question is how long does Payton get to stay without being told it's over.
Perhaps if you are not from here, the unbreakable bond between fans and the Black and Gold may be unfamiliar. To give a little insight imagine this. When the church bells ring for service people line up in their jerseys and Saints' gear to attend service. For many, the game inside the dome is the most heavenly place on Earth. To be honest, the Saints are simply the world to everybody that has been born here. Even for the transplants the Saints have provided so many personal memories that will be passed on from generation to generation.
Surely, there are plenty of great fan bases and cities around the country. The Green Bay Packers have their "Cheeseheads." The Cowboys have that blue star that can be found from Mexico to London. But there's no place like dome.
Now, though in 2016 Payton finds himself in unfamiliar territory. The franchise that made him a legend may be the one that brings down the empire that he help built. Countless coaches before him have been forced to "walk the plank" after a few losing seasons. Whether or not Sean Payton will get that existential extended leash is yet to be determined.
Regardless, the length of his leash has been stretched pretty far as of today. The real issue at hand is how far can Payton stray without breaking it. Especially if 2017 turns into another losing season. A lot of his stock could depend on the finish of the 2016 season. These games are important to players, coaches, and fans. Winning all of them could really boost the coach coming into the offseason. A record of 6-10 or under would be a huge disappointment to a team that was supposed to at least be around 8-8.