New Orleans Saints training camp: A fan's guide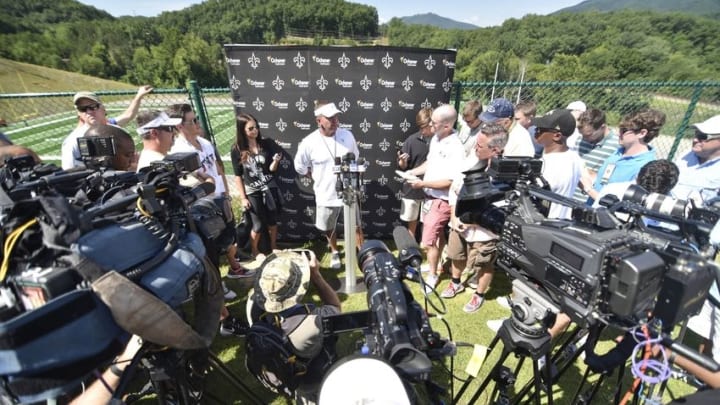 Aug 3, 2015; White Sulphur Springs, WV, USA; New Orleans Saints head coach Sean Payton answers questions from the media following training camp at The Greenbrier. Mandatory Credit: Michael Shroyer-USA TODAY Sports /
It's finally here! It's as real as it gets, as the New Orleans Saints start training camp practice sessions at The Greenbrier on Thursday.
The black and gold will hold 22 total practices open to the public between The Greenbrier in West Virginia and their Metairie practice facility on Airline Drive. Thursday's action is from 9:30 a.m. to 12:20 p.m, and will have players in jerseys for the first two practices. Padded practices will start on Saturday.
Additionally, the New Orleans Saints will participate in joint practices with the New England Patriots on August 9 and 10 (Tuesday and Wednesday), and will travel to Houston for joint practices with the Texans on August 18 and 19 (Thursday and Friday).
Four practices will be held in Metairie, Louisiana starting on Monday, August 22 as the team returns home to take on the Pittsburgh Steelers.
Fans wishing to attend these sessions should know that there's no charge to see the Saints practice, and you should take advantage of it assuming the weather permits it. You're able to get player autographs and photos.
Next: The offseason survival guide for New Orleans Saints fans
If you consider yourself a Twitter user, then you definitely want to have these important people followed to keep up with all the New Orleans Saints action.
Saints Media follows
Additionally, you should absolutely keep up with the Who Dat Dish staff and our sister site Big Easy Believer for Saints coverage, as we'll give unique takes on action as it unfolds.
FanSided Network follows
Preseason Schedule
Week 1 (Thursday, August 11): at New England Patriots – 6:30 p.m. CST (FOX)
Week 2 (Saturday, August 20): at Houston Texans – 7:00 p.m. CST (FOX)
Week 3 (Friday, August 26): Pittsburgh Steelers – 7:00 p.m. CST (FOX)
Week 4 (Thursday, September 1): Baltimore Ravens – 7:00 p.m. CST (FOX)
Training Camp roster previews
"The New Orleans Saints pre-training camp two-deep depth chart"
Top Saints to watch at training camp