New Orleans Saints: Marquez Callaway is capturing everyone's attention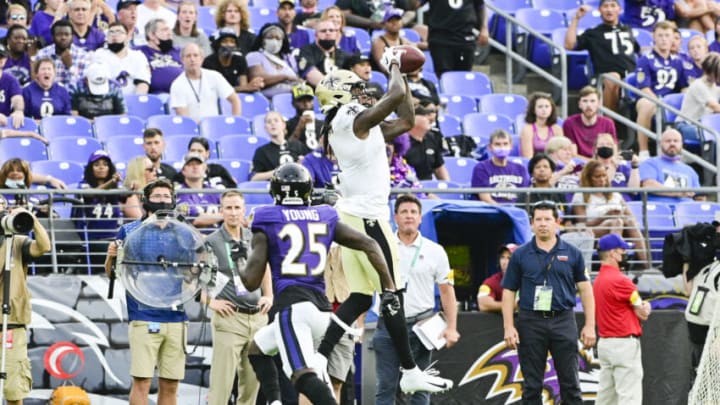 New Orleans Saints wide receiver Marquez Callaway (1) - Mandatory Credit: Tommy Gilligan-USA TODAY Sports /
The New Orleans Saints are hoping to see a massive leap from wide receiver Marquez Callaway this year and so far, he's showing he can do just that.
Callaway is entering just his second year of NFL action after going undrafted out of Tennessee last year. He didn't do a ton in his rookie season but that's to be expected from a UDFA rookie.
This year, however, Callaway is flourishing in his new role. It's not often that guys who go undrafted are looking at becoming the WR1 of their team just two years into their career but due to unforeseen circumstances, that's exactly what's happening with Callaway.
Chris Roling of Bleacher Report wrote about how Callaway is an early breakout candidate in the league and had this to say:
"After getting some training camp attention, Callaway showed out in the New Orleans Saints' first preseason game, catching three passes for 61 yards on four targets. That might not sound like much, but the 2020 undrafted free agent spent last season getting just 27 targets over 11 appearances.The Athletic's Katherine Terrell reported Callaway was the favorite target of both Jameis Winston and Taysom Hill during camp.With a rapport clearly established with both passers and No. 1 receiver Michael Thomas out after June ankle surgery, Callaway is a clear starter."
Callaway was probably going to be the starter of the Saints regardless but seeing him have a good summer has been a wonderful sight. He's already surpassed Tre'Quan Smith in production this offseason (though, to be fair, Smith has been injured) and is wowing in both practice and preseason.
New Orleans Saints WR Marquez Callaway flourishing in new role
Callaway finished his rookie season with 21 receptions for 213 yards through 11 games and three starts. He'll see significantly more playing time in 2021 and hopefully, he can do what no other receiver not named Michael Thomas has failed to do, which is make a major impact in the offense.
As Roling notes in the blurb above, Callaway is a favorite of the two quarterbacks vying for the starting job. This is going to be important because whoever is named the starter will certainly be looking Callaway's way during games.
Saints fans are well aware of Callaway and what he can do but soon, he'll be a much bigger name around the rest of the league.