New Orleans Saints Trade Rumors: Russell Wilson is worth whatever it takes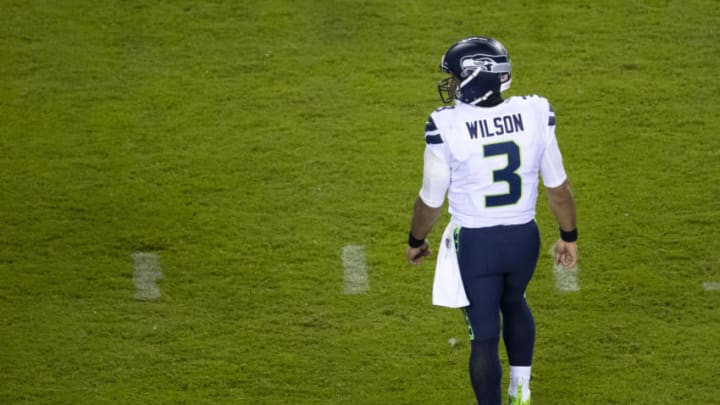 PHILADELPHIA, PA - NOVEMBER 30: Russell Wilson #3 of the Seattle Seahawks looks on against the Philadelphia Eagles at Lincoln Financial Field on November 30, 2020 in Philadelphia, Pennsylvania. (Photo by Mitchell Leff/Getty Images) /
The New Orleans Saints are one of several teams that Russell Wilson would accept a trade to. The list is only four franchises long, but the Saints are one of them. That said, they must do whatever it takes to bring the 32-year-old superstar to the Big Easy.
However, it will cost at least three first-round picks, a massive return for Seattle. The Seahawks are going to get a solid slew of high-value picks for their franchise quarterback. If the Saints partner with them, Seattle would also likely return a few high-profile players.
With future Hall of Famer Drew Brees expected to retire and free agent Jameis Winston potentially heading elsewhere, the Saints may be left with Taysom Hill, the only quarterback they have under contract for next season.
The New Orleans Saints, a team that has won five straight division titles, should do whatever it takes to trade for the Seattle Seahawks star Russell Wilson.
It's unlikely that Hill will be the starter, but if he's not, the Saints will have to make a move that many aren't expecting. It will either be a trade for Wilson, a re-signing of Winston, or the drafting of a quarterback.
As for Wilson, he'd be the most expensive both in the trade package and in contract size. Back in 2019, Wilson signed a four-year, $140 million deal, and with the Saints already being so deep in a salary cap hole, they'd have to move several pieces to make it work.
If Mickey Loomis can figure out, he needs to do his best to bring in Wilson. Why? Well, because, quite frankly, the Saints have many stars that may not be in their primes for much longer. Think Cam Jordan and Demario Davis.
Those two make the Saints' defense one of the most tenacious in the NFL. While it's young weapons like Alvin Kamara and Michael Thomas offensively, Wilson would also be a massive important from these last few seasons of Drew Brees.
Brees has had the better career, but at 42, Wilson would be a major upgrade for now. Wilson threw for 4,212 yards last season. His 40 touchdowns were tied for the second-most in the NFL in 2020.
Wilson was electric and, for most of the season, was an MVP candidate. If the Saints can bring him in, then they'd immediately be a Super Bowl-contending team. They must consider that upgrade and should reason that it's worth the cost.
Players like Cam Jordan and Alvin Kamara may not be included in a trade, but there's no telling if the team would be willing to part ways with Michael Thomas.
With blockbuster trades having shocked the NFL world these last few offseasons, seeing Thomas shifted across the country would be too insane.
For Wilson, the Saints should do it. They need a quarterback, and despite being undersized, Wilson would have a combination of an elite offensive line and top-tier weapons.
He's the one that would utilize it all to its maximum potential, and for the Saints, it's a move they must look into doing despite the cost.