Possible ways to improve the Pro Bowl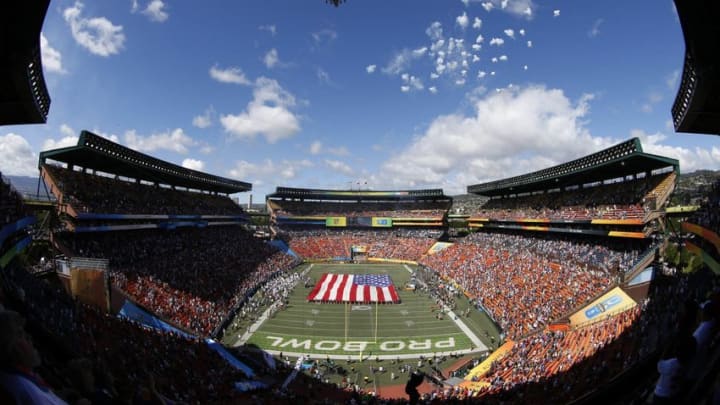 Jan 31, 2016; Honolulu, HI, USA; General view of a flyover during the playing of the national anthem with the United States flag on the field before the 2016 Pro Bowl at Aloha Stadium. Mandatory Credit: Kirby Lee-USA TODAY Sports /
The Pro Bowl is, in my opinion, somewhat of a failed attempt at an all-star weekend. But we can fix it.
Yes, we can look past the absurd voting system (Seriously, Dak Prescott over Drew Brees…?) and past the ever-present possibility of injury.  But even then, when you get down to the supposed fun of the Pro Bowl, what do you really have? Not much. The game of football just does not translate well into an all-star event.
Jan 25, 2015; Phoenix, AZ, USA; Does anyone want to see Mark Ingram get hurt in a game as meaningless and boring as the Pro Bowl? Mandatory Credit: Mark J. Rebilas-USA TODAY Sports /
Football is a wonderful sport. But it depends on inspired and passionately competitive athletes. It depends on a chess match of playcalling, and on teamwork. In that respect, it's unlike any sport. Football is only fun when teams play to win.
That's not to say that NFL all-star teams don't play to win. But when the overall level of competitiveness drops, as it does in any all-star event, football suffers more than other sports.
Basketball, for example, can fall back on individual moves and highlight reel plays. Anyone with a handle can make a highlight play. A block is always fun to watch. An off-the-backboard alley-oop has a special home in the NBA all-star game. Outside of toe-dragging, one-handed catches, football doesn't have those sorts of plays.
A football highlight depends on two players hitting each other. It depends on two players competing over an inch of field, battling over strength and power of will. Football gets its electric force from hours of gameplanning and carefully designed strategy. And those sorts of things are entirely absent from the Pro Bowl.
For these reasons and more, I don't think there's much the NFL can do to fix the actual Pro Bowl game. But I do think that there are ways that the league can make the whole weekend a fun event. And they're already headed in the right direction.
Pro Bowl dodgeball might not be the most exhilarating event to watch. It'll be fun for the players, and I'm sure I'll tune in just for the novelty. But next year, I imagine I'll pass. Still, that's the sort of thing I think the league should look to add to the weekend.
The basis of my argument, what I think the NFL can do to fix the event, is to add individual competitions. That starts with adding a quarterback challenge.
It's a no-brainer. It would be like a more fun version of the NBA skills competition. I'd watch Aaron Rodgers compete with Tom Brady to hit a moving tire from 50 yards, any day. They already had the event in the past, and I'm trying to dig up why they chose to drop it. But the rubric is there. Why not bring it back?
And from there, you could really do anything.
The ideal situation would be more positional competitions, but that could be logistically challenging. How exactly would an offensive line competition look? I can vaguely imagine some sort of competition between WRs and CBs, but again, what exactly would that look like? I'm really asking. If someone could figure out how to make it work, we should let the league know!
But until we figure out positional competitions, there are other, equally fun, if possibly sillier solutions.
Joe Thomas has been vocal about adding new events to the Pro Bowl. Dodgeball is a step in his direction. But I think Thomas has some better ideas.
My favorite suggested addition to the event is a 3-point shooting contest, like the NBA. Sure, it's fun to watch great shooters compete. But think about how much fun it would be to see some NFL players struggle, or possibly excel, at the event?
More from Who Dat Dish
And to carry that further, how about a dunk contest? Sure, these guys might not have Zach Levine's hops. But they can definitely get up. Receivers are generally basketball player-type frames. And I'm pretty sure I've heard something about tight ends liking basketball. I'm sure Mike Evans can throw down some nasty dunks. And it's not only the tall guys. Here's 5-8 Cole Beasley showing off the hops.
Obviously, not every player could compete in a dunk contest, or even a three point contest. Just under 100 players make the Pro Bowl, and the trick would be to find enough events so that everyone could compete somewhere. The league could make it so that each player can choose what event they'd like to try
In the end, some events won't be as fun as others. Joe Thomas suggested a beach bowling contest, which would certainly fit the bill, but might not be exactly exhilarating. Then again, it would likely be a very light-hearted affair and might draw viewers just for that.
A home-run derby is another Thomas idea I like. It would fit some of the league's bigger players, particularly along the offensive line. Maybe some big tug of war would work for those guys. But I'll admit that's not the most exciting idea either.
So ultimately, I think the league could even do away with the entire Pro Bowl match, and replace it with these individual competitions. That would eliminate the risk of injury, and would hopefully be more fun. But that's a long way away, and I'm not even sure I'd like them to do that. Just a thought.
Next: Drew Brees' Pro Bowl snub shows how arbitrary the voting is
Anyway, those are all the ideas I have right now. If you have more, let us know. Any suggestions are good. Anything! Who knows, maybe we can send the league a convincing letter! (I'm serious.)