Winners and losers from Saints' Week 15 win vs. Falcons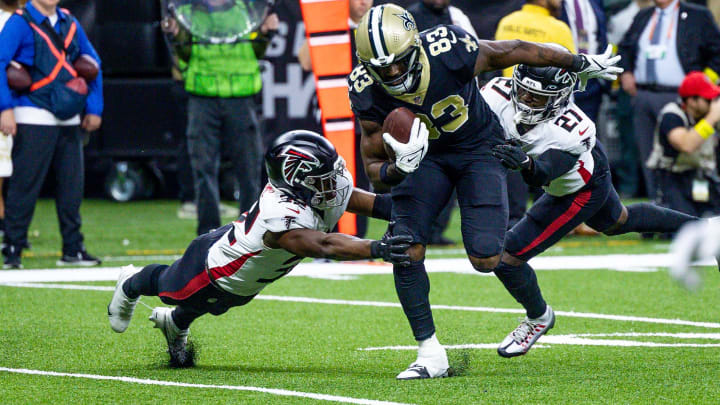 Dec 18, 2022; New Orleans, Louisiana, USA; New Orleans Saints tight end Juwan Johnson (83) pushes / Stephen Lew-USA TODAY Sports
Ayyyy the New Orleans Saints won a football game! They're now 5-9 on the year and their playoff hopes -- while slim -- are still alive. They'd have to win out and hope that the Tampa Bay Buccaneers flame out in the same way that they did on Sunday against the Bengals.
Let's chat about the winners and losers from this game, shall we? We'll start with the losers.
Losers
David Johnson
Once again the Saints had a red-zone opportunity and once again, a running back fumbled the ball -- this time it was David Johnson, formerly of the Texans and Cardinals. The Saints scooped him up a few months ago and in his first glimpse of action as a Saint, he fumbled the football away.
While this didn't end up costing the team the victory, it sure could have against a team that wasn't the Falcons. Johnson rushed for 12 yards off of four carries.
Run defense
I'm not sure what happened to the Saints run D of old but it'd be nice to have that group back. On Sunday, NOLA's defense surrendered 231 yards on the ground with Tyler Allgeier compiling 139 yards and a rushing touchdown. It was not a good look for the unit and they should have been better against it considering that Atlanta was starting a rookie quarterback who was making his NFL debut so obviously the Falcons were going to run the ball more.
Winners
Juwan Johnson
The Saints have found their tight end of the future. He'll be a restricted free agent this offseason so there's a slight chance he ends up elsewhere but the Saints will be able to control if he does or not.
Johnson amassed four catches for 67 yards and two touchdowns while averaging 16.8 yards per catch. He fought hard for a touchdown on the Saints' first drive of the game and after Dennis Allen threw the challenge flag, it was confirmed to be a touchdown. Johnson has been incredible and the Saints should be excited for what's to come from him.
Rashid Shaheed
Speaking of players to be excited about -- The need for Shaheed is real! The rookie had another sensational game, tallying three catches for 95 yards and a touchdown while averaging 31.7 yards a catch. This kid is special.
Alvin Kamara
After some not-so-great outings, Kamara finally had a big game running the ball! He carried the rock 21 times for 91 yards and while he only averaged 4.3 yards per carry, it was good to see him doing what he has struggled to do this season, which was make an impact in the run game.
Taysom Hill
If the only team that Hill ever played was the Falcons, he'd be a first-ballot Hall of Famer. Hill dialed it up against the Dirty Birds again, throwing for 80 yards and a touchdown and rushing for 30 yards off of seven carries. He's the first player since Frank Gifford to reach double-digit touchdowns in passing, rushing, and receiving, per NFL Research on Twitter.
When Hill is utilized, this offense is a hell of a lot scarier and no one knows that better than the Falcons.
Who else belongs on the winners and losers list for the Saints?