Saints can be alone atop the NFC South standings with a win in Week 2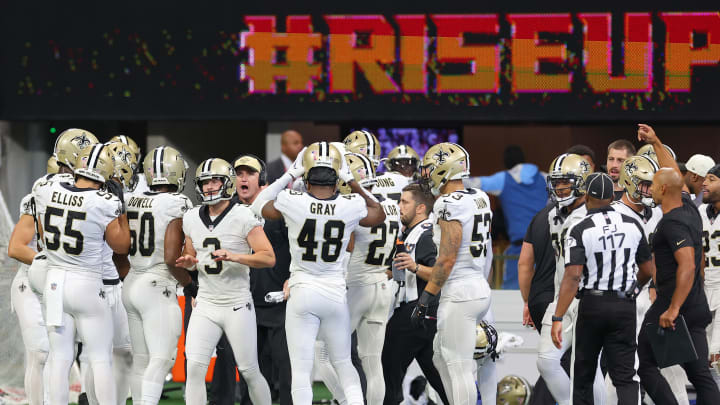 New Orleans Saints v Atlanta Falcons / Kevin C. Cox/GettyImages
The New Orleans Saints start their 2022 regular season against three straight divisional opponents. They took care of business against the first one, the Atlanta Falcons, winning the game 27-26 after trailing 26-10 early in the fourth quarter.
With the win, New Orleans moved to 1-0 on the year and they're tied atop the NFC South standings with the Buccaneers, who took care of business against the Cowboys. Carolina lost to Cleveland in the Baker Mayfield revenge game that failed to live up to the hype.
This means that both the Saints and Bucs are 1-0 while the Falcons and Panthers are 0-1. No one is surprised to see New Orleans and Tampa tied for first considering who their Week 1 opponents were but after Week 2, unless a tie occurs, we'll have a team all alone at the top of the division.
Can Saints claim first place in the NFC South?
The Saints have handled Tom Brady's Buccaneers with ease since he moved to Tampa Bay, going 4-0 against them during the regular season. Not only that but the defense has swarmed Brady in each of those games, making his life miserable. He had one of the worst games of his career against NOLA last year and it played out on Sunday Night Football for the entire country to see.
Last year is last year though. The Saints are 2.5-point underdogs entering this game and they're coming off of a game in which they didn't look fearful whatsoever. The offense got it going late in the game and helped get the team the victory but the defense surrendered 201 rushing yards and failed to sack Marcus Mariota.
Both sides of the football have to improve if the Saints want to start the year 2-0 and move to 5-0 against the Brady-led Bucs.
As for the rest of the NFC South, the Panthers head to Jersey to face the Giants while the Falcons travel to the west coast for a date with the Rams. The Giants surprised everyone by knocking off the Titans in Week 1 so that game could actually be a fun one. The Rams got blown out by the Bills but they should be able to rebound against Atlanta.
What will the NFC South look like this time next week?