Saints 7-round mock draft: New Orleans makes a trade early on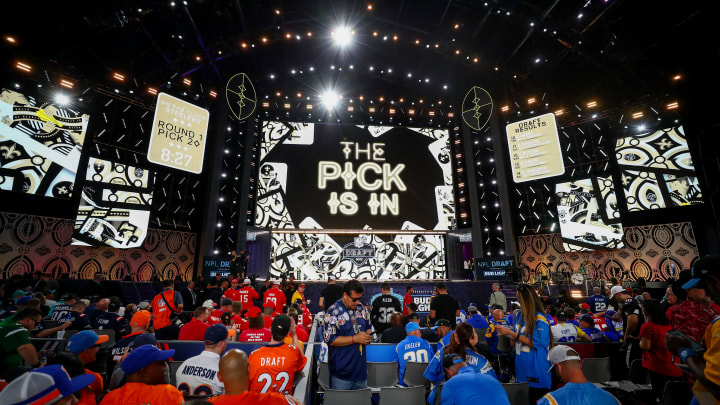 2022 NFL Draft - Round 1 / Kevin Sabitus/GettyImages
The New Orleans Saints, as you know by now, don't have a first-round pick in the 2023 NFL Draft. While that doesn't change in this mock draft, the Saints pick up a third-round pick in this mock draft by moving back in the second round. They previously traded one of their third-round picks to Washington so that they could move up to select Chris Olave.
New Orleans has a lot of needs in this draft and while quarterback is certainly up there on the list of things they need to address, there was never a good time early on to take one. They do draft a quarterback at some point in this draft but it's not with their first few picks.
This mock draft was conducted on Pro Football Network. Let's see how things played out!
Stats courtesy of ESPN and draft profiles courtesy of The Draft Network
Round 2: Pick 56 - Calijah Kancey, DT (Pittsburgh)
The Saints were originally armed with the No. 44 pick but made a trade with the Chargers that bumped them back to pick No. 56 and gaining an additional third-round pick in the process. With this pick, the Saints added to their defensive line, which is a smart move considering three of their four starters are free agents this spring.
"Overall, his contact balance is very impressive given his size. His style of play lends itself well to gap penetration, which gives him chances to make plays behind the line of scrimmage against the run and pass. His motor always runs hot and he battles to be around the football."

- Joe Marino, The Draft Network
Calijah Kancey can provide the Saints with some help to their interior defensive line moving forward because David Onyemata and Shy Tuttle are both hitting free agency as are backups Kentavius Street and Malcolm Roach.
The Saints HAVE to add help to their interior defensive line in this draft. Kancey gives them just that and the Saints scooped up an extra third-round pick as well in moving back in round two.