NOLA Saints need to bench Paulson Adebo in favor of Chris Harris Jr.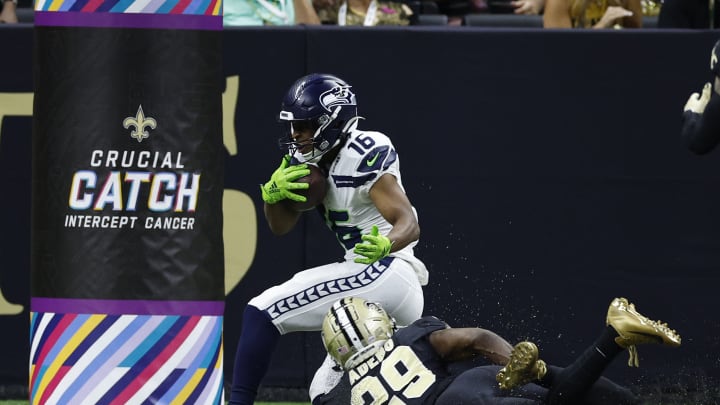 Seattle Seahawks v New Orleans Saints / Chris Graythen/GettyImages
The NOLA Saints were fortunate to win last week against the Seattle Seahawks. One player the Seahawks continually picked on was cornerback Paulson Adebo and the team might need to swap him out.
This weekend the team has a tough matchup against the Cincinnati Bengals. The Bengals are home to one of the best wide receiver trios in the league with Ja'Marr Chase, Tee Higgins, and Tyler Boyd. With how poorly Adebo has looked in pass coverage, the team should look to the newly signed Chris Harris Jr. to fill this role.
Is it time for the NOLA Saints to bench Paulson Adebo?
Adebo has some excellent ball skills and is a solid open-field tackler. However, fans don't realize how bad he is in coverage. Per Player profiler's advanced analytics, Adebo was credited with giving up 179 yards on eight receptions last week alone. Most of these came against veteran speedster Tyler Lockett who had Adebo looking lost all game. Unfortunately, this isn't a one-time thing. The week before, he was credited with allowing 92 yards in coverage.
Player profiler has also attributed the second-year corner with giving up four touchdowns in just three games this season. If that couldn't get worse, quarterbacks have a perfect passer rating of 158.3 when targeting him and receivers an 83.3% catch rate.
While these stats can vary from site to site, it's universally agreed he's struggled this season. Rotowire has attributed a 144.9 passer rating, 72.2 completion percentage, and 197 yards allowed this season. Lastly, PFF has given the former Stanford Cardinal a 35.7 grade. Adebo struggled in coverage last season, and things haven't seemed to get better.
While Harris Jr. might be newer to the squad, he has the veteran presence and IQ not to allow the big plays that Adebo will allow. It was a small sample size, but in five games last year with the Chargers, the 33-year-old didn't allow a single receiver to get over 35 yards. In this game, the team needs to have a consistent corner, not a risk-reward corner. With the deep threats, the Bengals have one tiny mistake that can result in big yards.
Unfortunately, Saints star cornerback Marshon Lattimore has been listed as questionable for this week. If Lattimore is ruled out, the Saints may be forced to use Adebo. The Saints will be in a battle this weekend, taking on Joe Burrow and the Bengals.