Saints fans can look gameday ready in these must-have throwback Starter Jackets
HOMAGE has outdone themselves this time.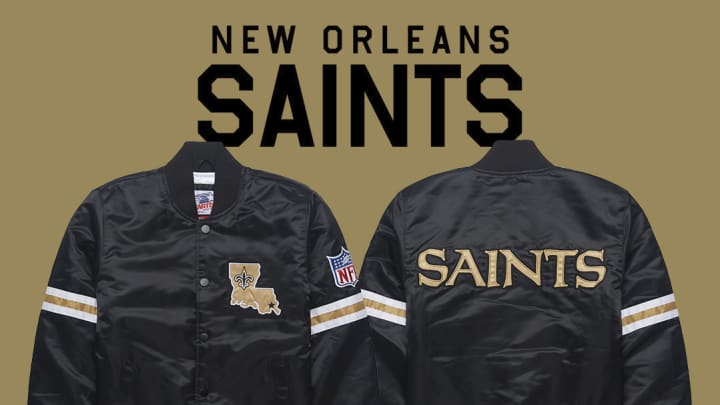 Homage / Homage
HOMAGE's New Orleans Saints Starter Jackets are a must-have for Saints fans. You can look like Jim Mora, or any member of the Dome Patrol with these puppies.
What's old is new again, and that has been proven tried and true in both the NFL world, as well as the world of fashion. Both tend to go hand-in-hand, with anything throwback-related being pretty much universally welcomed with open arms in NFL circles. As it pertains to the New Orleans Saints, there is now a way for Saints fans of a certain era to remember the years they thought were the golden ones before Drew Brees and Sean Payton came to the Big Easy. It can also be a way for fans of younger generations to show that they are hip to the jive despite their age.
HOMAGE has just released their '90s-style starter jackets, and, to put it midly, they are absolute thunder. They harken back to the days of former head honcho Jim Mora and the Saints' legendary Dome Patrol defense. Try this on for size, figuratively and literally in this case.
Saints fans can look exactly like Jim Mora in this '90s throwback Starter Jacket
Just dripping machismo.
Homage / Homage
While the former head coach and amateur comedian (depending on who you ask) was wearing a jacket of a slightly different style during his famous "Diddly-Poo" rant, it's probably better that the jacket that's easily available to fans is one that's associated with times not related to comedy at the Saints expense.
With these vintage Saints starter jackets from HOMAGE, fans can turn heads at the game, at the grocery store, or just doing diddly-poo. Simply put, these bad boys are simply must-haves for any New Orleans Saints fans, and with the 2023 NFL season officially here, the timing has never been better. Throwback kits are popping up like welcomed weeds, and it's time fans in and around the Bayou jump on board.
This post contains affiliate links, where we may receive a percentage of any sale made from the links on this page. Prices and availability are accurate as of the time of publication.