Saints 2022 Training Camp: 3 noteworthy quotes from Day 6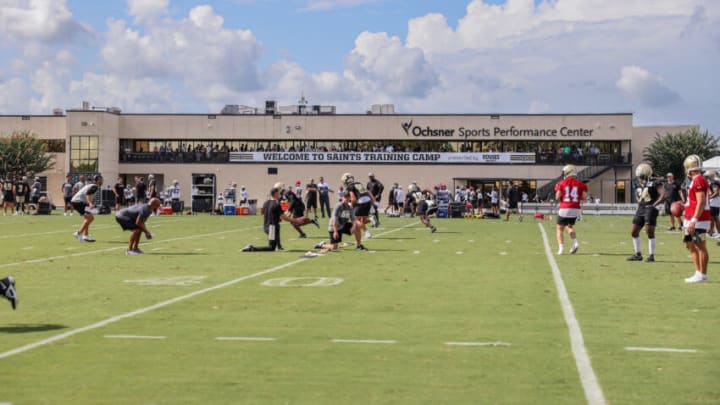 New Orleans Saints quarterback Andy Dalton -Mandatory Credit: Stephen Lew-USA TODAY Sports /
The sixth day of New Orleans Saints training camp is officially in the books. After practice, there were some quotes said by the players that we should look into and unpack. 
The weather forced the New Orleans Saints to practice indoors on Tuesday but the show went on. Following practice, a few players spoke with the media and gave some interesting quotes.
Let's dive into those quotes.
Deonte Harty on WR room: "Best in the league."
Oh how the times have changed in just seven short months.
The Saints went from having arguably the worst wide receiver room in the league last season to now boasting at least a top-five unit. Deonte Harty, however, thinks New Orleans has the best receiver room in the NFL and he told the media that on Tuesday.
The Saints added Chris Olave in the draft, Jarvis Landry in free agency, and are getting Michael Thomas back from injury. That's quite the trio right there and it's definitely hard to argue there are many other teams with better units.
Cesar Ruiz on Trevor Penning: "When you think he's done, he's not done."
The Saints spent one of their two first-round picks on Trevor Penning and the reputation surrounding Penning entering the draft was that he was a bit of a feisty player after the whistle blew. He's shown that so far in training camp, getting into a few scuffles and firing up the defensive line in the process.
Well, on Tuesday, fellow offensive linemen and former first-round pick Cesar Ruiz was asked about Penning and compared his new teammate to a pitbull. He noted that when thinks Penning is done, the guy isn't done and continues to grind.
Kentavius Street: "It's really rare to find that in a guard."
Who exactly is Kentavius Street talking about in the aforementioned quote? Well, some fans might not believe it but he's actually talking about Cesar Ruiz, who has struggled in the first two years of his career.
When asked which offensive lineman stood out in a good way, newcomer Street replied with Ruiz, noting that he has the total package. Hear more from Street in Jeff Nowak's tweet below.
It's been a shaky road for Ruiz in his first two NFL seasons and this is definitely a do-or-die season for him. He'll have this year to prove that he can be a starting right guard for this team, otherwise, the Saints will look for another option next offseason.
Steet seeing good mechanics from Ruiz is a good sign of what potentially could be a bounce-back season from the former first-round pick. It could also be more hype for a player that doesn't end up coming to fruition.
Who Dat Dish /
Want your voice heard? Join the Who Dat Dish team!
These were the standout quotes from Day 6 of New Orleans Saints training camp.