Saints touted to beat Bucs and win NFC South in 2022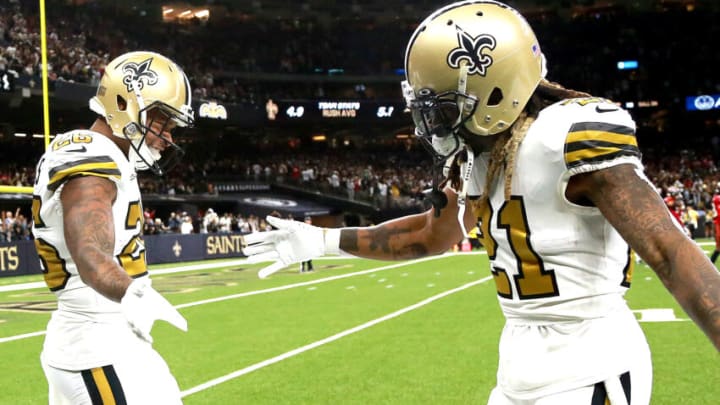 Saints. (Photo by Sean Gardner/Getty Images) /
On paper, the Tampa Bay Buccaneers have the best roster and the best odds at winning the NFC South, but the New Orleans Saints come in as very worthy underdogs.
Tampa Bay blew by the competition and easily finished first in the division last season, and with many of the same key pieces this year, Tom Brady and the Bucs may repeat as NFC South champions.
The Saints, on the other hand, underwent a flurry of changes this offseason, one of which saw Sean Payton step down in the organization making way for new head coach Dennis Allen.
When it comes to the series rivalry between the Saints and Bucs, Allen has big shoes to fill to maintain Payton's impressive legacy. Most pundits side with the Bucs as the favorites to win the division, but a few have strayed from the well-beaten path.
On a recent episode of ESPN's First Take, NFL analyst Bart Scott picked the Saints to win the division over Tampa Bay:
"I tell you what the team that I am really bold on this year is the New Orleans Saints. 4-1 against Terrific Tom with Trevor Siemian and Taysom Hill. Jameis Winston has got an array of weapons, Super Bowl caliber defense, you talk about, you know, just the ability to be multiple offensively and shut you down on defense.I think people are going to understand the greatness of Jameis Winston… Environments matter and he's in a perfect environment for him to thrive."
NOLA Saints have what it takes to win the NFC South in 2022
Scott is right in that much of the Saints' success hinges on Winston's triumphant return. Winston had a 5-2 record before going down with a season-ending injury in 2021 and recorded a respectable touchdown-to-interception ratio, mostly likely due to Sean Payton keeping him on a tight leash.
It remains to be seen whether Allen can help Winston develop into an elite and consistent starter at quarterback, though Winston does have much more help this year.
Winston gets to throw to a talented wideout corps of Michael Thomas, Jarvis Landry, and Chris Olave and will hopefully be protected behind a more stable offensive line. The only glaring problem is Alvin Kamara's potential suspension — the Saints play the Bucs as early as Week 2, so even if Kamara misses a couple games, he'll likely sit out of the divisional matchup against Tampa Bay.
It'll be up to Winston and the passing attack (as well as a star-studded defense) to accomplish the same incredible feat the Saints achieved in 2021 when they shut out Tom Brady and went on to win the game.
Don't sleep on the Saints in 2022, especially if you're Tampa Bay.