Saints' 2022 draft given surprisingly high ranking by CBS Sports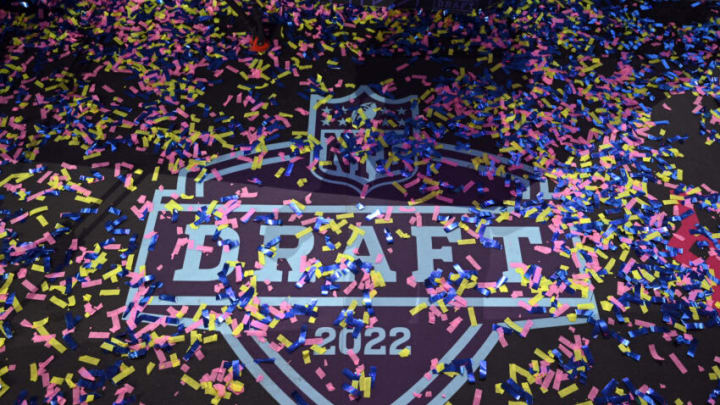 (Photo by David Becker/Getty Images) /
The New Orleans Saints had an interesting 2022 draft. To some, it felt underwhelming, mostly just because they only ended up with five picks after entering the draft with eight total picks.
Ryan Wilson of CBS Sports, however, was a big fan of what New Orleans did in the draft. He ranked every team's draft but he did things a little differently.
He offered this simple explanation as to how he based his rankings:
"We're comparing where we had each draft pick graded with where they were actually selected."
When it came to that criteria, Wilson put the Saints at No. 13 on his rankings. That stunned me a bit as it really did seem that most people felt pretty "meh" toward the Saints' haul in this year's draft.
Saints get some love for their 2022 draft picks
Surprisingly, Wilson said that his favorite pick was Jordan Jackson, who NOLA took in the sixth round.
"Jordan Jackson had an elite pass-rush grade from PFF, and that showed up at times on tape. He's capable of collapsing the pocket, is consistently active with his hands when rushing the passer, and can fight through double teams to get into the backfield. He'll struggle at times to get off blocks vs. the run, and he'll need to expand his pass-rush arsenal, but his best football could be in front of him."
I liked the Jackson pick too but it was a bit shocking to see him listed as someone's favorite pick for the Saints. The "his best football could be in front of him" line indicates that Wilson sees the Air Force product being a huge piece of this Saints defense moving forward.
Wilson also said that Jackson was the Saints' best value pick but he decided not to be boring by giving the same answer twice, so he listed D'Marco Jackson here. The Appalachian State linebacker went in the fifth round to NOLA.
"Like many linebackers in this class, he's an athletic marvel with sideline-to-sideline speed who is always around the ball. He'll just need to get stronger to take on blocks instead of occasionally getting washed out of plays."
This was another sneaky pick and one that could end up looking really smart in a few years. The other Jackson joining the black and gold gives them another option at linebacker and if nothing else, he'll be a solid contributor on special teams.
Lastly, Wilson discussed the most surprising pick for NOLA and said it was Chris Olave.
"The Saints had glaring and obvious needs at wideout, and Chris Olave is a natural fit. We just don't know if trading up for him was worth the price, especially when he was drafted ahead of Jameson Williams (though Williams won't be ready until perhaps November)."
I'm a bit tired of seeing the "was it worth trading up for Olave" debate because for the Saints, wide receiver was a huge need, and both Drake London and Garrett Wilson were already off the board after the first 10 picks. New Orleans knew the run on wide receivers was only going to continue so they made sure they got their guy.
Who Dat Dish /
Want your voice heard? Join the Who Dat Dish team!
It's cool seeing the Saints' draft class get more respect and hopefully, Wilson is right on the money with the two Jacksons and what they could bring to this defense moving forward.