Saints bolster DL depth with sixth-round selection of Jordan Jackson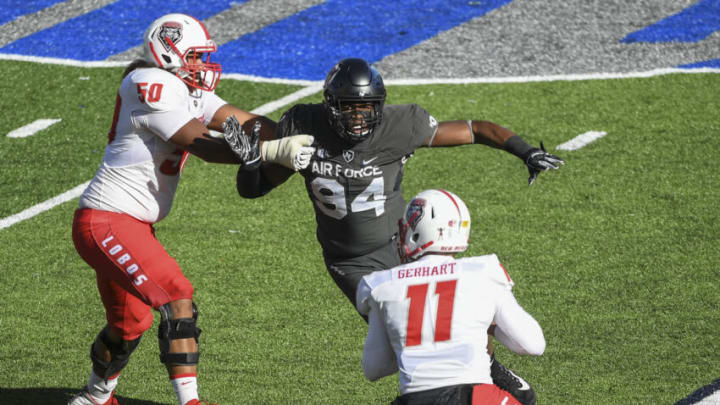 Jordan Jackson (Photo by Justin Tafoya/Getty Images) /
For their final pick (well, for now) in the 2022 NFL Draft, the New Orleans Saints selected defensive tackle Jordan Jackson with the 194th overall pick. Jackson played his college ball at Air Force.
While most fans will immediately be disappointed that Jackson looks to be a reach, New Orleans being interested in defensive line depth is not a new thing for this team. With Dennis Allen now taking over as the head coach, it should be even less surprising that the Saints go with a player like Jackson this late in the draft.
Once again, NOLA drafted a player who was a team captain for his team, which is a recurring trend for them this draft. They clearly like guys who showed leadership qualities during their college career and there's nothing wrong with them valuing those players.
As Luke Johnson mentions in the tweet above, Jackson didn't play in 2020 due to a shoulder injury but otherwise, he started for three years at Air Force. Last year saw him put up 7.5 sacks and clearly, he's able to get after the quarterback. During his year off in 2020, NFL.com noted that Jackson spent time working for Uber Eats.
Saints select Jordan Jackson with the 194th overall pick
The defensive line wasn't an immediate need for the Saints but with David Onyemata and Marcus Davenport both hitting the free-agent market next year, it's not a bad idea for the team to get a head start on adding depth who can transition into starters.
NFL.com had this to say about Jackson:
"Jackson is at his best when he's chasing down the line or attacking the pocket with a secondary rush fueled by hustle. His lean lower half and lack of knee-bend might always be culprits in holding the point of attack, but his snap quickness gives him a shot in a one-gapping scheme."
The Saints pride themselves in stacking their defensive line and Jackson is another example of this. I'll be interested to see what the Air Force product is able to do in the New Orleans defense.
"All-time passing yards leaders in New Orleans Saints history"
What do you think of this pick, Saints fans?