Saints rumored to face Vikings in London during 2022 season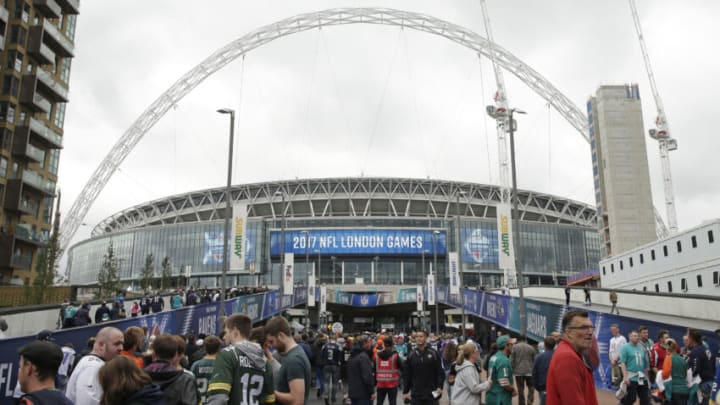 Miami Dolphins vs. New Orleans Saints at Wembley Stadium on October 1, 2017 in London, England. (Photo by Henry Browne/Getty Images) /
The New Orleans Saints have a London game on the schedule for the 2022 season, meaning they'll play eight of their nine games in the Superdome and the other one will count as a home game but will take place in jolly old England.
Their opponent for that game is rumored to be the Minnesota Vikings.
KSTP's Darren Wolfson appeared on "Mackey and Judd" and mentioned "there is some buzz about the Vikings landing a game in London [in 2022]."  and discussed the Saints as a potential option.
With the Vikings not being one of the teams serving as the home team in London, there are only so many to pick from and the Saints make sense as a potential opponent for the team in purple.
The Saints and Vikings have a rivalry and it's been one that Minnesota has had the last laugh in recently. While the Saints took down the Vikings on Christmas Day in 2020 (Alvin Kamara had six touchdowns that night), Minnesota had the "Minneapolis Miracle" in the 2017 playoffs and also took down the Saints in New Orleans in the 2019 Wild Card round.
Could the Saints face the Vikings in London?
This would be a good matchup to put abroad because these are two rabid fanbases who will travel overseas to see their squads play. Not only that but these two teams also hate each other, making it even more intriguing.
The official schedule for the 2022 season will be released in mid-May so we won't know who the Saints will officially square off against abroad until the schedule is released but for now, Saints-Vikings could be the matchup.
The Saints have played two games in London since the NFL started having games there in 2007. In fact, New Orleans was one of the first markets to play there, taking on the then-San Diego Chargers overseas in 2008 and winning 37-32.
The black and gold returned to London nearly a decade later, facing the Miami Dolphins in 2017 and shutting out the 'Fins by a score of 20-0. The Saints were the away team for that one so they're overdue to host a game abroad. They'll get their chance this year but who will it be against?
Who Dat Dish /
Want your voice heard? Join the Who Dat Dish team!
How would you feel about a potential Saints-Vikings game in London?