Saints need to campaign for Kyler Murray if he wants out of Arizona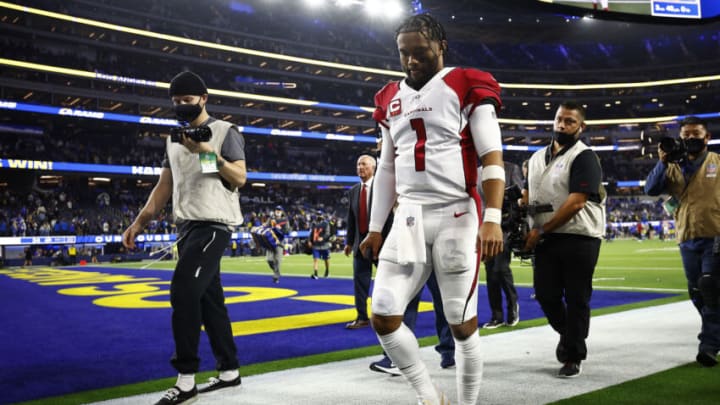 Kyler Murray #1 of the Arizona Cardinals. (Photo by Ronald Martinez/Getty Images) /
Read this in bold, capital letters: THIS IS JUST A RUMOR. But if Kyler Murray wants to leave Arizona, the New Orleans Saints should welcome him with open arms.
It's crazy how one light tap of a screen can lead to such manic chaos, but here we are. Murray unfollowed the Arizona Cardinals sometime after the Pro Bowl, and the NFL world is in shambles. Is Murray unhappy in Arizona? Is he looking for a new team? What on Earth could explain a move as passive-aggressive as unfollowing one's team on social media?
Murray also scrubbed his Instagram account of all but two posts, neither of which mention the Cardinals.
As media outlets and analysts debate this to no end, we consider the sliver of a possibility that Murray does, indeed, want a fresh start. Perhaps in New Orleans.
Once the reigning leaders in the NFC, the Cardinals fell hard, crashing out of the playoffs in the Wild Card Round against the Los Angeles Rams.
Murray, who is heading into the final year of his rookie contract, has all the reason to want to step back and reconsider his future after the disappointing loss. His Instagram drama could just be a PR move on his part to strike a new, more lucrative contract with Arizona sooner rather than later, or it could be Murray simply "rebranding" himself on social media, as so many individuals choose to do.
New Orleans Saints should make a move on Kyler Murray if he wants a trade
The third option, then, is that Murray wants to detach himself from the Cardinals franchise and is currently on the prowl for a new team.
The two-time Pro Bowler flailed in this year's Wild Card loss, throwing for 137 yards and two interceptions, one of which led to a Rams' defensive touchdown.
Arizona were crippled by the mid-season loss of DeAndre Hopkins, and if Murray wants to play with another talented WR1 he may look no further than Michael Thomas and the Saints.
Despite Sean Payton's retirement and the glaring lack of a starting QB, the Saints have most of the assembled pieces for a Super Bowl contending team.
Under new head coach Dennis Allen, NOLA's defense will be as elite as ever, and the team will add much-needed offensive reinforcements this offseason. If Murray becomes available, the Saints should have no qualms pushing Jameis Winston aside — Murray automatically becomes Desirable No. 1.
As for cap space…
Murray is set to earn about $5.4 million in 2022, but if he wants a trade, his going price will likely be much higher. Other teams like the Tampa Bay Buccaneers (Murray did post a Instagram story of him and Mike Evans) and the Pittsburgh Steelers may also throw their hats in the ring, and those teams have more cap space to work with.
Still, the Saints remain a legitimate option for Murray, a quarterback in his prime who's hungrier than ever for a ring.
Again, all of this is pure speculation and hearsay, and chances are the Arizona faithful will stay where he is.