NOLA Saints expected to play 'home' game in London in 2022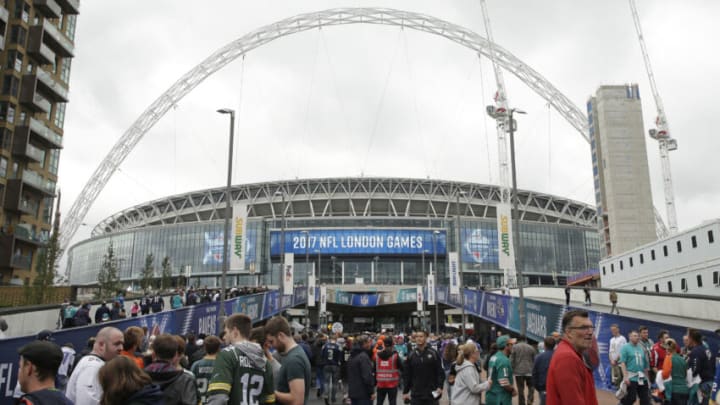 Miami Dolphins vs. New Orleans Saints at Wembley Stadium on October 1, 2017 in London, England. (Photo by Henry Browne/Getty Images) /
From jambalaya to….fish and chips? The New Orleans Saints are slated to play an NFL game across the pond in the 2022 season as part of the league's annual International Series.
The Saints' opponents and the exact date remain unknown, but the game will reportedly serve as a home game against an NFC South divisional team.
The game is scheduled to take place in Tottenham in the Spurs' stadium, home to the esteemed Premier League club, the Tottenham Spurs.
When the Saints go marching in London, a different kind of "football" will be showcased for all the blokes — and ladies — to see.
New Orleans Saints are scheduled to play a league game in London this season
As ESPN's Mike Triplett notes, the game in London will count as one of New Orleans' nine home games despite being over 4,000 miles away from home.
NOLA has played two regular-season games in London before, one in 2007 against the San Diego Chargers and another in 2017 against the Miami Dolphins, both of which resulted in Saints victories.
In preseason games in the 1970s and 1990s, the team also traveled to Mexico City and Tokyo to play exhibition games.
Since 2007, the NFL has staged 29 total season games in London and plans to expand the International Series to other parts of the globe, with cities in Germany currently considered as candidates to host games.
The Saints have been unbeaten abroad so far and will start the 2022 campaign with both new and familiar faces.
After Sean Payton's heartwarming Ted Lasso-ian gift to Gayle Benson during his retirement press conference, we expect the team to be up to date on all matters of British etiquette and football (the other one).
And we dearly hope the Saints adopt Richmond FC's mantra for 2022: Believe. You can make the playoffs. Just believe.