Russell Wilson is the best player the NOLA Saints can add this offseason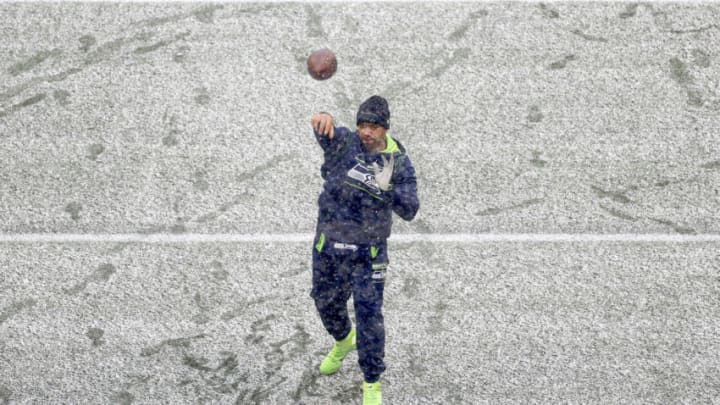 Russell Wilson (Photo by Steph Chambers/Getty Images) /
The NOLA Saints are about to enter a crucial offseason where they have to get the quarterback question mark answered. Different names have been thrown out about who could be taking the snaps in Week 1 of the 2022 season but Russell Wilson is always thrown into that mix.
Brent Sobleski of Bleacher Report wrote an interesting article where he discussed the best player every NFL team could get this offseason. This wasn't just through free agency but also included trades and the 2022 NFL draft.
For the Saints, he picked — you guessed it — Russell Wilson.
"As per usual, the Saints are well above the projected salary cap. But the organization always finds a way. Saints vice president of football administration Khai Harley is a master at creating wiggle room.The Saints could do the mundane thing by re-signing Jameis Winston and seeing how he responds after suffering a season-ending torn ACL. After all, he played well before the injury.Or, the organization can go get another top-flight quarterback to pair with head coach Sean Payton. Even without consistent quarterback play this season, the Saints remain in the playoff hunt going into Week 18."
That last sentence is quite telling. The Saints have trotted four different starting quarterbacks out there this season and are still alive in the playoff race in spite of that. That's a testament to how good of a coach Sean Payton is and how good this defense is. The team is winning games despite the offense not doing much of anything.
If the Saints want to continue to be a decent team, signing Jameis Winston for a third straight year is a fine idea. They can win with Winston, as Sobleski notes.
If, however, New Orleans is serious about winning a Super Bowl, Wilson should be their target this offseason. The problem is they don't have the money to land him and it'd cost a fair share of draft picks to get him to the Big Easy. That right there could take the wind out of NOLA's sails.
Russell Wilson is best player NOLA Saints could add
Wilson is 33 years old and hasn't looked as good this season so the Saints might decide not to go in this direction. The argument could be made that Seattle doesn't have a good offensive line and that's finally caught up, as Wilson missed starts for the first time in his career.
This year's offensive line hasn't been great but injuries have played a major factor in that. When healthy, the Saints possess one of the best o-lines in the league. Alvin Kamara gives them a running game to be fearful of and the defense is Super Bowl-caliber.
Adding Wilson probably takes away some of that defensive firepower as the team then likely wouldn't be able to afford Marcus Williams on a long-term deal. Still, it's hard to argue that Wilson would mostly be set up to succeed in New Orleans, especially with an offensive-minded coach like Sean Payton at the helm.
Russell Wilson is indeed the best player New Orleans could land in the offseason and there's really no debate to be had there.