3 takeaways from Saints' season-saving win in Week 17 vs Panthers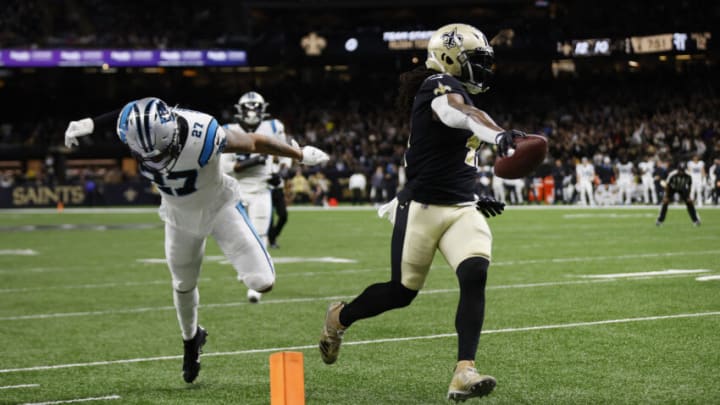 Alvin Kamara, New Orleans Saints (Photo by Chris Graythen/Getty Images) /
The NOLA Saints defeated the Carolina Panthers 18-10 and now sit at 8-8 and still alive in the playoff hunt. It'll all come down to the 49ers' final game in Week 18 and the Saints' final game against the Falcons to decide who gets to punch their ticket to the playoffs.
Let's check out some takeaways from the Saints' win over Carolina.
Dominant pass rush
It's such a shame that Drew Brees couldn't have played with this defense because this defense is insanely good. The pass rush, in particular, has been on fire, especially ever since Marcus Davenport and David Onyemata returned to the lineup. Pair that with Cameron Jordan rising from the dead and this group is ferocious.
They finished the game sacking Sam Darnold seven times and pressuring him throughout. This is the kind of pass rush the Saints were expecting when they entered the season but an injury to Davenport and a suspension for Onyemata prevented them from being this dominating bunch.
Now, however, this group is one of the main reasons why New Orleans is still in the running to make the playoffs.
Offense can score touchdowns!
Entering the fourth quarter, the Saints' offense had failed to find the end zone since they faced the Jets early in December. If it weren't for Brett Maher, NOLA could have been shut out in three straight games. That's how bad the offense has been.
This week, however, the touchdown drought finally ended, as Taysom Hill connected with Alvin Kamara for the team's first touchdown in a month. Somehow, they've only lost one game during that time but the defense and Maher have kept them in games.
If the Saints somehow are able to eek their way into the playoffs, the offense could be one of the worst to ever make an appearance in the postseason.
OL is beat up
Part of why the offense might be so bad is that the offensive line is incredibly beat up. Both starting tackles have missed several games in recent months and Erik McCoy missed this game due to illness. That left Cesar Ruiz (everyone's favorite lineman… sarcasm) as the only true starter remaining on the line.
As a result, Hill was pressured frequently. He was hit five times and sacked twice and the lack of a healthy o-line also hurt the Saints in the run game, which is where they typically like to do their damage.
If Terron Armstead and Ryan Ramczyk can return next week to help this team get into the playoffs, maybe — just maybe — the Saints offense can look like a coherent group. Fingers crossed.
The NOLA Saints are still alive in the playoff hunt and have one more game to try and get their ticket punched to the dance.