Taysom Hill report card from Week 15 performance vs Buccaneers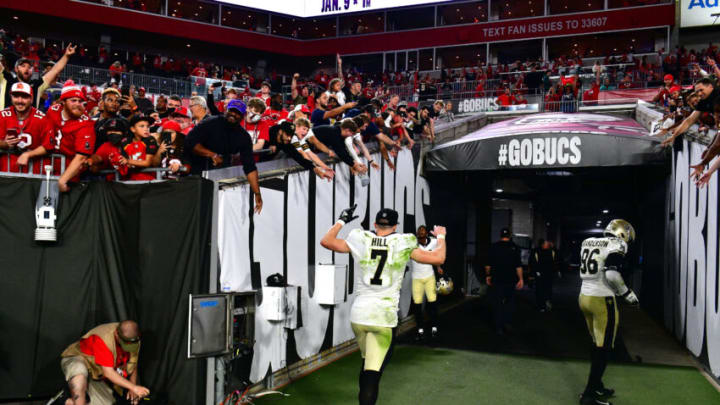 Taysom Hill, New Orleans Saints (Photo by Julio Aguilar/Getty Images) /
The New Orleans Saints shocked the NFL world once again with an upset over the Tampa Bay Buccaneers. It was a strange victory, as the team won scoring just nine points and all of them coming via field goals.
Taysom Hill didn't find the end zone for the Saints and aside from a fairly crisp first quarter, he had a rough night in Tampa. Hill finished the night completing just 13 passes for 154 yards while rushing for 33 yards on the night. His QBR was 26.5 and his rating after the game was a miserable 66.0. Not a good night.
With that said, the Saints did win the game and Hill did enough not to LOSE it for his team. He didn't turn the ball over for the second straight week and looked sharp in that first quarter, especially when targeting Marquez Callaway.
What grade does Taysom Hill deserve for his Week 15 performance?
Saying that the NOLA offense wasn't good on Sunday night is putting it nicely. If it wasn't for Brett Maher, there's a chance this game could have ended in a 0-0 tie because that's how on point both defenses were and how lackluster both offenses were.
Hill did take care of the football but the Saints can't continue to think he's the answer at quarterback moving forward. The guy isn't a good passer and while he can run the football, the Bucs defense isn't the unit to try and do that a lot against.
With all of this in mind, I'm giving Hill a D+ for his performance on Sunday night. The main reason I didn't flunk him is that he didn't turn the ball over and that was what lost the game for New Orleans two weeks ago when they faced the Cowboys. He's taken care of the football since then and that can't go unrecognized.
Still, 154 yards through the air typically isn't going to be enough to get the job done. That's why Hill gets a D+ grade this week.
What grade would you give Taysom Hill for his Week 15 performance against the Buccaneers?