Saints: What we learned about NFC South in Week 6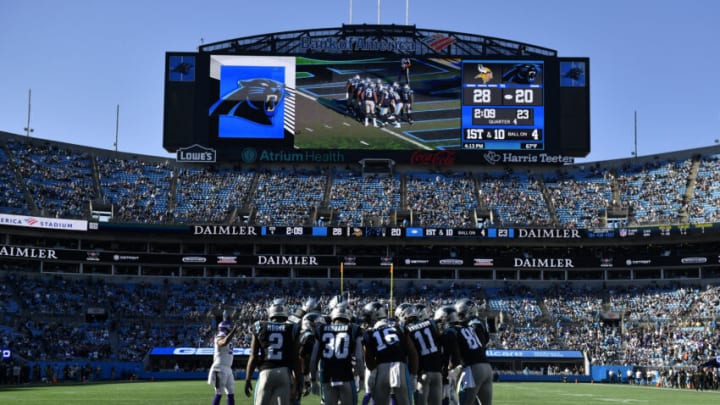 Carolina Panthers. (Photo by Mike Comer/Getty Images) /
With the New Orleans Saints and Atlanta Falcons on a BYE, what does the NFC South look like after Week 6? Not too different from before.
The Tampa Bay Buccaneers remains the favorites to win the division after beating the Philadelphia Eagles in a 28-22 close win. That marks their fifth win of the season and another strong performance from Tom Brady, who finished 34-of-42 for 297 yards, two touchdowns, and one interception.
The Bucs offense fired on all fronts with six receivers reaching double-digit yardage and running back Leonard Fournette having himself a field day with 81 rushing yards and two touchdowns.
Tampa is still the team to beat, and we're not too surprised the Eagles weren't up to the task. QB Jalen Hurts has his own demons to fight this season, anyway.
As for a bit of good news: the Carolina Panthers lost their third game in a row in an OT thriller against the Minnesota Vikings.
The most embarrassing stat of that game concerns QB Sam Darnold, who completed just 17 of 41 passing attempts for 207 yards, a touchdown, and an interception. The former first-round pick is going through a two-game rut in which he has completed just 49 percent of his pass attempts, and while it's generally frowned upon to laugh at others' mistakes, we can't help but crack a smile at our rival's recent struggles.
New Orleans Saints stand to gain from Panthers' recent loss in Week 6
Remember when we were slightly worried about a Panthers secondary that had C.J. Henderson and Stephon Gilmore? Well, that very same Panthers unit allowed 571 yards to the Vikings in Week 6, tied for the second-most in their franchise history.
Carolina allowed 573 yards combined to the Jets, Saints, and Texans, so giving that all up in a single game? We're ecstatic.
And one more tidbit for good measure: the Panthers have recorded only two sacks in the last three weeks despite posting 14 in the first three.
Something has gone very, very wrong in Carolina, and we're in no hurry to find out what it is.
The Panthers' loss gives the Saints a chance to leap into second place with a win against Seattle next week. By that time, New Orleans might even have more favorable luck in the form of Tre'Quan Smith, Michael Thomas, Kwon Alexander, and others potentially returning to the starting lineup.
Carolina can take mere solace in the fact that they beat the Saints in their head-to-head matchup, but we see it as Carolina beating the 1.0 version of New Orleans. After the BYE, the Saints 2.0 version will come outfitted with brand new players who can take NOLA to the next level and leave the Panthers behind in the dust.