Saints Game Sunday: Saints vs Panthers odds and prediction for NFL Week 2 game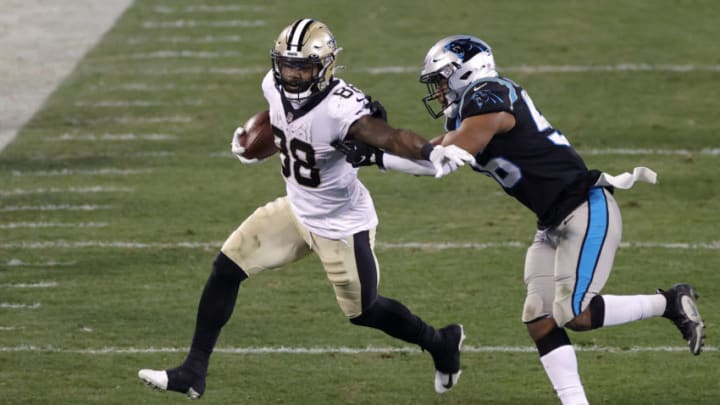 Ty Montgomery, New Orleans Saints (Photo by Jared C. Tilton/Getty Images) /
After taking down the Packers in shocking, blowout fashion in Week 1, the New Orleans Saints will look to keep the momentum going as they head to Charlotte for a date with the Panthers.
The Saints, as we know, knocked off the Packers 38-3 without even truly playing a home game. That stadium was filled with predominantly Packers fans yet they were quiet because of the beatdown New Orleans was laying on their squad. It was quite the sight.
Carolina also won their Week 1 opener, but it was in a less flashy fashion, as they defeated the lowly Jets by a score of 19-14. Be that as it may, a win is a win and the Panthers will look to keep building on the momentum they've stored up to this point.
Saints vs Panthers Odds Week 2
According to WynnBET, the Saints are 3.5-point favorites over the home-team Panthers. New Orleans has -190 moneyline odds while the underdog Panthers sit at +160. The total for the game is set at 46.5 points.
Saints vs Panthers Prediction Week 2
No one — and I mean no one — gave the Saints a chance in Week 1. It made sense as to why considering the circumstances surrounding the game and the opponent on the other side of the field.
Well, that didn't end up mattering now, did it? The Saints curb-stomped the Packers and now they enter Week 2 as three-point favorites. It'd be easy for them to read their own press clippings this week and to take this game lightly but that shouldn't happen, especially not on the defensive side of the ball.
Even with an incredibly thin cornerback group, the Saints secondary picked Rodgers off twice and showed they're a force to be reckoned with. Now they'll face a turnover-prone Sam Darnold in Carolina and while Christian McCaffrey will be a tough player to stop, the Saints are used to going up against the former Stanford product.
New Orleans should be able to win this game pretty comfortably. They have the more talented roster, the better head coach, the better quarterback, and by far the better defense. Let's see how it all unfolds this weekend.