Saints: Packers fans are taking over Jacksonville in season opener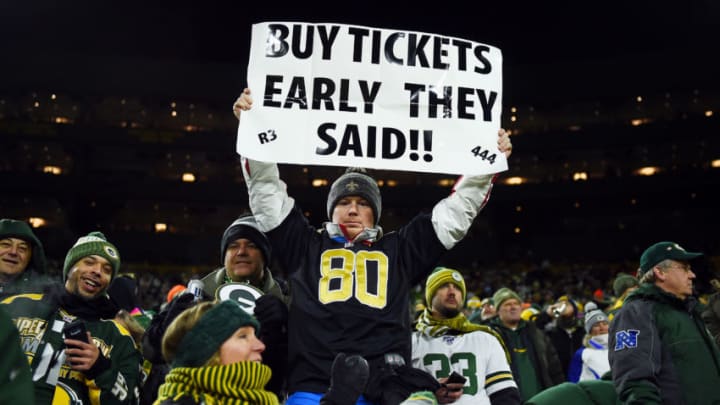 New Orleans Saints. (Photo by Stacy Revere/Getty Images) /
So much for a "home" game in Jacksonville.
The New Orleans Saints are set to play the Green Bay Packers in Jacksonville for their season opener this afternoon, but it doesn't look like there will be any home field advantage this game.
As the Saints prepare to face Aaron Rodgers and Co., they can draw up all the tactical plays they want, but the one thing they didn't see coming? Hordes of Packers fans.
Reporters in Jacksonville shared a few photos of what the outside of TIAA Bank Stadium looks like, and it's a sea of that obnoxious green and yellow currently flooding the gates.
Despite the Saints' efforts to pick the most inconvenient destination for Green Bay fans, they clearly showed up.
Part of the reason is that Florida itself teems with Packers fans (they have a decades old "Central Florida Packer Backers" group with 3,000 members and counting).
The New Orleans Saints are already at a disadvantage in first "home" game
Tickets for the game went on sale to Packers fans last Friday, but many were able to buy tickets on Thursday due to early sales on Ticketmaster.
Packers bars in Jacksonville are already setting up tents and tailgates as we speak, and with all the pro-Packers festivities (including, you guessed it, cheese curd hats), the Saints might as well be playing in Wisconsin.
Given the average Packers fan's….stubbornness, you have to wonder if the Saints even had a chance at getting home field advantage in their first game. Jacksonville's "inaccessible" location and 80-degree humidity didn't scare Green Bay, and it's unlikely that any other city (in the states) would have kept those tenacious fans at bay.
For now, the Saints just have to deal with the hordes of "cheeseheads" in the crowd and try not to let the taunting get the best of them.
The Saints knew that not playing in Caesars Superdome for the start of the season would deal a huge blow to team morale, but they probably didn't expect it to hit this hard.
Florida's lax mask-wearing rules don't help either, especially when Jacksonville is about to host thousands of fans from a state with a little over 50 percent vaccination rate.
But politics aside — let's play football.