The Saints are on the prowl for a quality kicker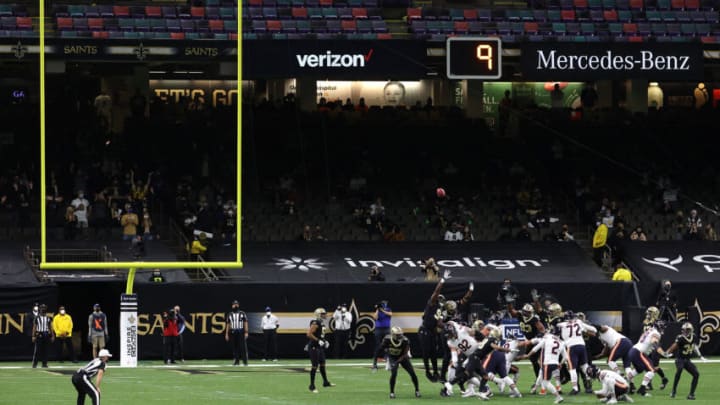 New Orleans Saints. (Photo by Chris Graythen/Getty Images) /
Following Will Lutz's injury and Brett Maher being waived due to injury, the New Orleans Saints are, at the time of this writing, kicker-less heading into the 2021 season.
Granted, kickers don't require much practice (compared to other positions), and whoever the Saints end up choosing can just plug and play in the lineup come game time.
But New Orleans are really taking their time here.
When asked whether the Saints would sign another kicker after Maher's injury, Sean Payton said:
"Well, we could go for two. We can go for it every time on fourth down this preseason. All jokes aside, our plan will be to have somebody. We'll see where that's at."
That's certainly a better plan than…to not have somebody.
Payton's vagueness aside, the Saints did host kicker tryouts on Thursday and brought in three free agents for a group workout.
Aldrick Rosas is a four-year league veteran who earned Pro Bowl honors in 2018 on the New York Giants. He has a career completion percentage of 81.4 percent on field goals, 92.2 percent on point-after attempts, and last season went 3-of-5 from 50-plus yards.
Alex Kessman was just waived by the Los Angeles Chargers and is one of two rookies on this list. His career 72.6 percent field goal completion rate is the lowest of the bunch, but in 2020 he went 23-of-29 for Pittsburgh (79.3 percent), ranking first in the NCAA.
The New Orleans Saints still don't have a kicker in 2021
Kessman's also a sharpshooting menace on extra point attempts and led the NCAA in 50-plus yard kick completions (66.7 percent).
Dominik Eberle was also recently waived after signing with the Las Vegas Raiders as an undrafted rookie last season, where he stayed on the practice squad. The rookie recorded an 87.5 percent field goal completion rate in his senior year at Utah State in 2019.
What's more impressive is that over his collegiate career, he set eight school records including becoming the all-time leader in points scored, points per game, and field goals completed.
Both Kessman and Eberle have yet to play in an NFL game, while Rosas serves as more seasoned talent.
Hosting kicker tryouts is a step in the right direction, given their next preseason game is on Monday, but some are still lamenting the situation as a bit of a crapshow.
Yes, the Saints will miss their No. 1 kicker and "quality dude" Will Lutz very much this season, and maybe no one will quite fit into his shoes.
Time is running out, though, and New Orleans will just have to give one of the other kicker dudes a shot.