Saints: Ty Montgomery could find himself on the outside looking in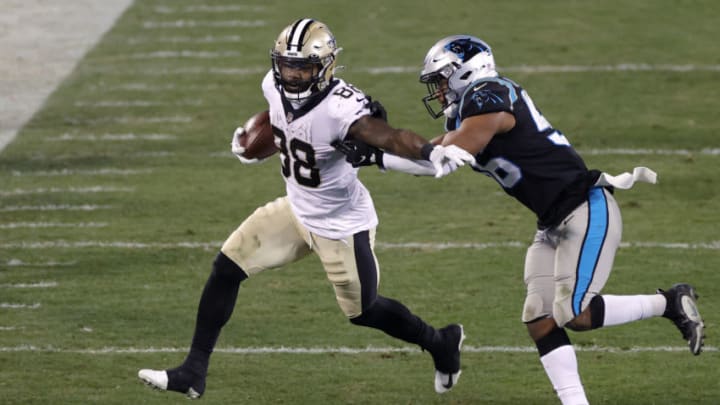 Ty Montgomery, New Orleans Saints (Photo by Jared C. Tilton/Getty Images) /
The New Orleans Saints have some tough decisions to make this summer and one of them could involve running back/wide receiver Ty Montgomery. Randy Gurzi of NFL Spin Zone listed Montgomery as the Saints' potential surprise cut candidate.
His main reason is that the Saints continue to find themselves in a spot where they need to cut costs due to being over the salary cap. He mentions Latavius Murray as a potential option but he's the only true RB2 on the roster. This leads to either Montgomery or Dwayne Washington finding themselves in trouble.
Gurzi writes:
"Admittedly, this wouldn't be a huge surprise cut but once again, this team has no real candidates to be a big shocking move. Their cap situation is pretty much set so they're unlikely to surprise anyone this offseason."
Could the Saints cut Ty Montgomery this summer?
The 2020 season was Montgomery's first in New Orleans and he didn't do a ton, appearing in six games and starting one. He had 19 carries for 101 yards and also had three receptions for 27 yards.
Again, not a ton of impact, especially when you consider nearly all of that damage came in the regular-season finale. Montgomery is an intriguing player though because of his ability to line up either as a wide receiver (his original NFL position) or in the backfield as a running back.
The Saints could really use that kind of versatility in 2021 considering they don't have many solid receiver options behind Michael Thomas and Alvin Kamara and Murray are their two main running backs. Montgomery was brought in because Sean Payton loves versatile players (see Taysom Hill) and figured he'd be able to cook up some crazy plays with Montgomery.
As Gurzi mentioned, however, Montgomery getting cut prior to the season wouldn't shock anyone. The Saints have struggled to get under the cap since they've been trying to 'go for it' and win a Super Bowl and this is going to continue to be a struggle for them.
Financially, the Saints hope to be in a good enough situation to where they can extend Ryan Ramczyk and Marshon Lattimore as well. It'll be tough to lock down Terron Armstead due to left tackles getting a boatload of cash now so that's why the Saints need to turn their attention to Ramczyk and Lattimore.
Back to Montgomery though, if he's on the team, it'll be as a No. 3 running back, so this wouldn't be a huge loss for New Orleans. We'll see who the 'surprise cut' ends up being in the next few months.