New Orleans Saints wins over/under set at 9.5 in 2021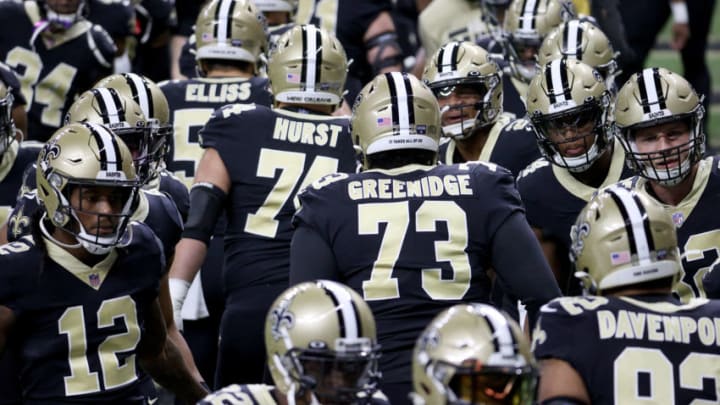 NEW ORLEANS, LOUISIANA - JANUARY 10: James Hurst #74 and Ethan Greenidge #73 of the New Orleans Saints high five their teammates ahead of the NFC Wild Card Playoff game against the Chicago Bears at Mercedes Benz Superdome on January 10, 2021 in New Orleans, Louisiana. (Photo by Chris Graythen/Getty Images) /
The Saints have officially entered the post-Drew Brees era in New Orleans. This time period is something that the team has been preparing for and hoping to avoid simultaneously for the last couple of years now.
With Jameis Winston and Taysom Hill as the team's quarterbacks, most believe that Sean Payton will elect to go with Winston as the team's 2021 starter. While he should be better than he was in 2019, the team will still feel the impact of the change.
Anytime you move on from a Hall-of-Fame quarterback with a football IQ like his, the team is going to feel the impact for at least a year if not a multitude of years. The Saints were also forced to forsake half of their team this offseason.
Are the New Orleans Saints going over or under their projected win total in 2021 that is currently, pre-draft set at 9.5?
New Orleans released nearly a quarter of their team in order to get underneath the cap limit. That will certainly play a part in the win total for the team. Regardless of how this draft goes, 9.5 isn't a bad play, but there's clear reason to worry about this team on both sides of the ball.
Even at 9.5, most analysts believe that it is still too high.
The draft will play a big part in how the season will play out. There are still plenty of positions that need to be filled. If the team can draft players to fill positions and some to start, then they will have a good chance to reach that 9.5.
Regardless, 2021 will prove to be one of the most difficult years in recent history. 9.5 was the number last year as well and they surpassed that. 2016 was the last time that the Saints had less than 10 wins in a single season.
Outside of New Orleans at 9.5, the Buccaneers are set at 11.5; the Panthers are set at 7.5; the Falcons are set at 7.5. Either way, it will be a competitive division next year; hopefully, the Saints go over 9.5 and win the division for a fifth-straight year.