Saints didn't land a single player on PFF's All-Pro Team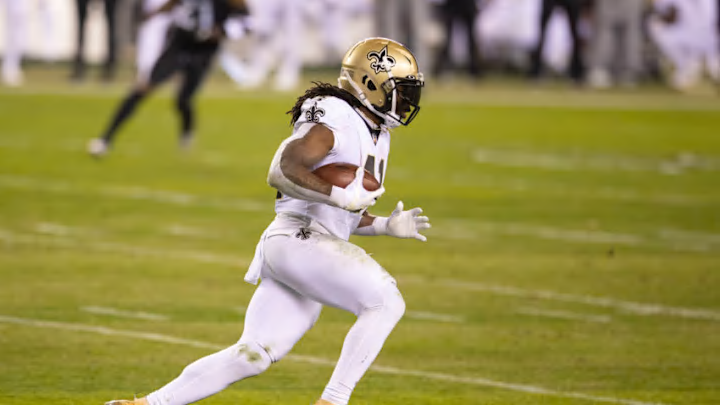 PHILADELPHIA, PA - DECEMBER 13: Alvin Kamara #41 of the New Orleans Saints runs the ball against the Philadelphia Eagles at Lincoln Financial Field on December 13, 2020 in Philadelphia, Pennsylvania. (Photo by Mitchell Leff/Getty Images) /
The New Orleans Saints ended their regular season with a 12-4 record as the No. 2 ranked team in the NFC and had no players selected to PFF's All-Pro Team.
Pro Football Focus' Sam Monson released their annual All-Pro team on January 4, 2021. The New Orleans Saints, who ended their season as the No. 2 ranked team in the NFC, didn't land a single player on the first or second team for PFF.
Now, PFF does not do AFC and NFC teams, they just do one single NFL All-Pro team. This means that it is the best of the best at their positions. They selected one starter or first team and one backup or second-team All-Pro candidates.
I understand that when you look at 32 starters for each position, it can be hard to garner attention to a bunch from one team, but for the No. 2 ranked team in the NFC and a top-five NFL team to not receive one player aboard either one of these All-Pro lists is almost criminal.
Drew Brees wasn't going to make the list because he isn't a top-five quarterback this year. Michael Thomas didn't even play half of the year, so it was obvious he wasn't going to make the list either. That doesn't mean the team doesn't have anyone eligible though.
To start off, Alvin Kamara led all running back in receptions, receiving yards, and receiving touchdowns in the NFL. He was also top 15 in rushing yards, top six in 20+ yard rushes, and No. 2 ranked in rushing touchdowns.
The two running backs who made it over Alvin Kamara were Derrick Henry of the Tennessee Titans and Dalvin Cook of the Minnesota Vikings.
The other significant player that I thought had a chance to make it was edge rusher, Trey Hendrickson. Hendrickson came out of nowhere and led the Saints in sacks with 13.5 on the season. That was good enough to rank No. 3 in the entire NFL.
According to PFF, Hendrickson was the third-best edge rusher on the team despite his immense amount of sacks this year. Either way, it was pretty discouraging to be a top-five team in the NFL and not see a single player on an All-Pro list.
Who Dat Nation is just going to have to prove them wrong and play like they deserve to be on that list. They go up against the Chicago Bears on Super Wild Card Weekend on Sunday night at 8:15 pm
.