Saints given eighth best odds to win Super Bowl, behind Tennessee Titans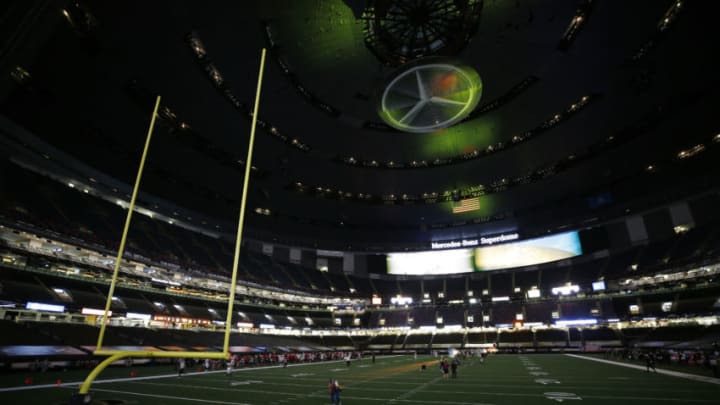 NEW ORLEANS, LOUISIANA - SEPTEMBER 13: An empty stadium is shown during the first quarter during a game between the New Orleans Saints and the Tampa Bay Buccaneers at Mercedes-Benz Superdome on September 13, 2020 in New Orleans, Louisiana. (Photo by Chris Graythen/Getty Images) /
The New Orleans Saints may have entered the 2020 season as one of the best teams in the NFC, but that's not how they're viewed anymore.
After a 4-2 start to the season, the New Orleans Saints are no longer talked about as a top-five Super Bowl contender. They just haven't shown what a Super Bowl-contending team usually does throughout the first third of the season.
What do I mean by that?
Well, the Saints have two losses, yes. That's not bad. They're still in playoff position. But one of those was to Oakland, a team they're superior to. The other factor that should cause hesitation is that, despite winning, they've trailed in every single game.
They pulled out to games in back-to-back weeks against the Lions and Chargers in which they were down double figures in the first half. It's impressive that they managed to come back, but the fact that they've started off so poorly is concerning.
The other notable aspect of this season has been the absence of Michael Thomas.
Thomas has been banged up and also hit with a disciplinary suspension as well. He'll miss yet another game later today against Chicago. He's yet to play since Week 1. Thomas should be back in Week 9, but at this point, even that is just speculation.
Drew Brees has looked sharp, but his arm strength clearly isn't there. That may cause some issues against tougher opponents as well, limiting the offense. The team's defensive coverage woes may also be a bigger problem than it currently is.
Combine it all together, and you get a team that FiveThirtyEight gives a five percent chance to make the playoffs.
The Saints are under even the Tennessee Titans who are sitting a six percent. Packers, Seahawks, Ravens, Steelers, and Chiefs are above them as well. Did you only counted six there and saw eighth in the title?
That's sadly correct as the inner-division Bucs are also a top-five Super Bowl contender according to their odds. Let's hope in the coming weeks the Saints continue to win, show a bit more dominance and improve their odds.
The great thing about that is they're just odds, and the Saints are just one win (4-2, 5-2 since they had a bye) behind the Bucs for the rights to the NFC South.