New Orleans Saints: This is the one key to a successful 2020 season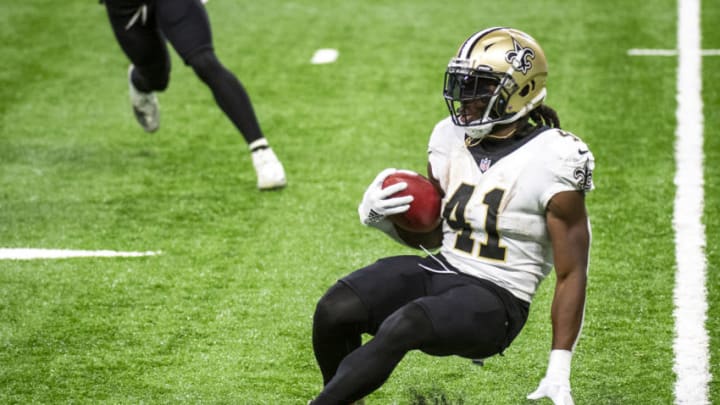 DETROIT, MI - OCTOBER 04: Alvin Kamara #41 of the New Orleans Saints slides during the fourth quarter against the Detroit Lions at Ford Field on October 4, 2020 in Detroit, Michigan. (Photo by Nic Antaya/Getty Images) /
After a 2-2 start to the 2020season, we can already pinpoint the one key to success for the Saints to win out the rest of the year.
The New Orleans Saints have not had the start to their season that they might have hoped for. In fact, it has almost been depressing for Saints fans given the hope and anticipation they had at the beginning of the year for what this season will turn out to be.
Taking away the losses to Green Bay and Las Vegas, there is one massive key that we can pinpoint from the two wins that New Orleans has had this season. This key, if implemented correctly, will almost assuredly win the Saints the majority of the rest of their games.
The key to success is their play on both sides of the ball. We have yet to see the Saints' offense and defense play a successful game together. If and when they get down to winning both sides of the ball, they will be a deadly team.
Both sides clicking in unison is what must happen for this team to go the distance.
They have the roster and personnel to be the top team in the NFC. However, in their Week 1 win against Tampa Bay, their offense played a terrible game. Drew Brees only threw for 160 yards, and Murray and Kamara only combined for 82 yards on the ground.
They won in Week 1 despite the offense's lack of production by the defense stepping up and intercepting Tom Brady twice, once for a touchdown. Then in Week 4, their other win, the exact opposite happened.
Their offense produced. Drew Brees threw for 228 yards and the backs ran for 164 yards. The defense, on the other hand, only had one takeaway, a first-half interception. Outside of that, they only sacked Stafford three times, tied for the second-lowest of the season.
In the games that they lost, neither one was on top of their game. If the black and gold can get a Week 1 out of the defense every week and a Week 4 out of the offense, then they will be one of the most deadly teams in the NFC and the NFL.