Taysom Hill is training like he'll be the heir to Drew Brees' throne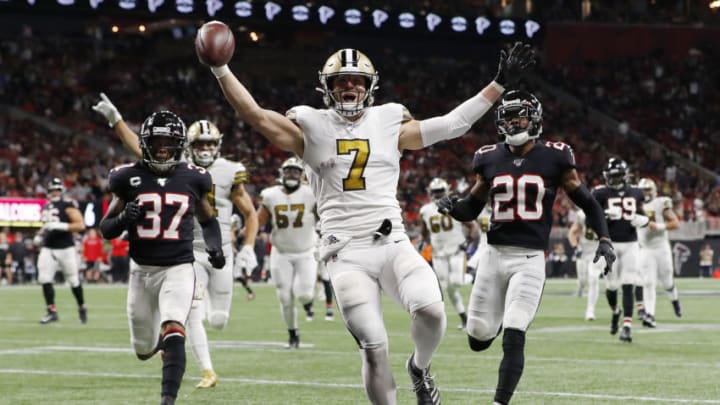 ATLANTA, GEORGIA - NOVEMBER 28: Taysom Hill #7 of the New Orleans Saints celebrates as he scores on a 30-yard touchdown run during the second quarter against the Atlanta Falcons at Mercedes-Benz Stadium on November 28, 2019 in Atlanta, Georgia. (Photo by Kevin C. Cox/Getty Images) /
Taysom Hill has been less of a Swiss Army knife and more of a quarterback to start 2020. Could he be the favorite to take over from Drew Brees in 2021?
The New Orleans Saints paid Taysom Hill like a future starting quarterback this offseason. As Drew Brees could be set to retire after the 2020 season, Hill may be the future of the franchise's quarterback position.
They initially retained Hill by slapping a first-round tender on him and then extended his contract through the 2021 season as well.
With Jameis Winston on a one-year contract and likely to either get paid an eight-figure deal by the Saints or another franchise next offseason, Hill could be the heir to Drew Brees' throne, one the future first-ballot Hall of Famer has sat on for over a decade.
At the very least, he's been preparing to take over the reins of the offense, practicing and mentally preparing to be a starting quarterback.
"Right now is kind of a special time for me, where I can hone in, really learn from Drew [Brees] on the field, really learn from the coaches, be coached hard. And it is a really fun time for me to do that," Hill told ESPN's Mike Triplett.
Hill has, for the last few seasons, entered the year primarily as the team's Swiss Army knife. He'll still be a tight end or running back or blocker for the bulk of his snaps, but Hill is hoping to finally emerge as an option at quarterback.
The last few seasons he's clearly sat behind Teddy Bridgewater. He's seemed to be content in that role. This offseason, he said that he wanted to be a franchise quarterback, and for Hill, the clock is ticking.
"When I study Drew, [I see] his ability to get a play-call, get up to the line of scrimmage, recognize what the defense is trying to do and then assess where and how we're going to attack that defense with the play that we have called…. And then as a quarterback, I don't think you can ever stop working on accuracy, your footwork, getting through your progression. So, my main focus has really been the mental side of everything and trying to expedite that process," Hill continued.
Hill has received some high compliments from the franchise. Payton has compared him to the great Steve Young. Some have said that he could be a bigger Lamar Jackson. For now, he's still a backup and not even the second-string backup at that.
But as he's learning behind a legend, Hill may emerge more accurate and more competitive than ever before. It'll soon be Hill's time to shine, and it'll be on him to show he's worthy of a starting spot in the NFL.