Saints to make these stadium changes due to COVID-19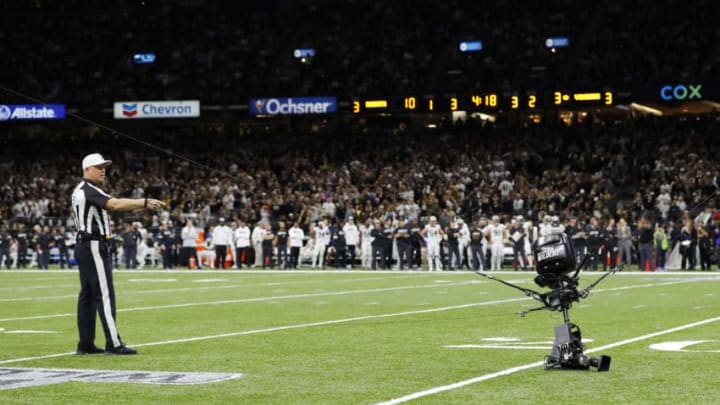 NEW ORLEANS, LOUISIANA - JANUARY 05: A Skycam is seen on the field after a malfunction during the first half of the NFC Wild Card Playoff game between the Minnesota Vikings and the New Orleans Saints at Mercedes Benz Superdome on January 05, 2020 in New Orleans, Louisiana. (Photo by Kevin C. Cox/Getty Images) /
Due to the COVID-19 pandemic, a lot of questions have arisen on what changes will be made this season for the New Orleans Saints.
The New Orleans Saints have spent the last memorable years playing in the Mercedes-Benz Superdome. Announced earlier this year, Mercedes-Benz is not renewing their contract and giving up the naming rights to another company.
That was a major change that has already been in the works. The naming rights are still up in the air. Many rumors have whirled around who might come forward for it, but there is no contract signed at this moment.
Besides naming rights, the Saints' Superdome is going to undergo some other changes this season. As many of you know, the COVID-19 pandemic has changed a lot for our lives going forward, and the NFL is no exception.
The pandemic has already cost the NFL the first game of the preseason. The Hall of Fame Game has been officially canceled and the word is still out on if the entire preseason will play out or if it will not. Beyond that, the NFL is making more stipulations.
The NFL has announced that teams, including the Saints, would have to cover the first eight rows of fan seating in the upcoming season. This is obviously to protect the players, coaches, and staff from the fans and vice versa.
On a lighter note, the NFL did tell the teams that they are able to use the tarped off rows to create a further advertisement to help offset the money lost from the ticket sales that would have been in those eight rows.
Inevitably, there will be more restrictions on the upcoming season to hinder fan to fan contact, but the NFL has not released those as of yet. Speculations have already begun to be rumored, but nothing is final yet.