Franchise tagging Teddy Bridgewater is hopeful thinking for New Orleans Saints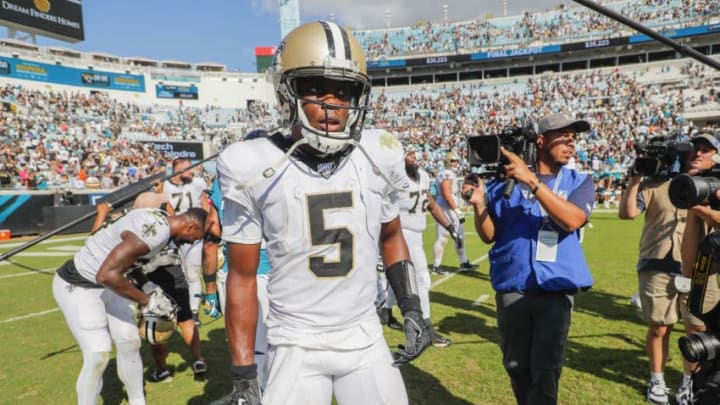 JACKSONVILLE, FLORIDA - OCTOBER 13: Teddy Bridgewater #5 of the New Orleans Saints looks on after a game against the Jacksonville Jaguars at TIAA Bank Field on October 13, 2019 in Jacksonville, Florida. (Photo by James Gilbert/Getty Images) /
The New Orleans Saints could use their 2020 franchise tag on 27-year-old quarterback Teddy Bridgewater but don't hold your breath on it.
After leading the New Orleans Saints to five straight wins from Week 3 to Week 7, Teddy Bridgewater has become a hot topic this offseason. He'll officially become an unrestricted free agent on March 18.
It's expected that teams are preparing eight-figure offers for Bridgewater.
While that's not officially been reported, the market for a solid quarterback that's a proven winner is at an all-time high with many teams having highly skilled players across both sides of the ball but being unable to find rhythm without a quality quarterback.
Bridgewater, who threw nine touchdowns and two interceptions in those five games, was not spectacular. He didn't awe fans. After all, he did manage to down the Dallas Cowboys without a single touchdown, beating America's team with just four field goals.
With Drew Brees recently announcing his return, the 41-year-old will take over for another run as the team's main signal-caller. The Saints should also be able to retain the versatile Taysom Hill, but re-signing those two will use much of the team's already limited cap.
ESPN already started the conversation on franchise tagging Teddy Bridgewater to keep him in the Big Easy. Sadly, they also mentioned how it's extremely unlikely that the Saints could even do that let along would want to do that.
"This is highly unlikely, as the Saints can't afford a $27 million salary-cap hit. But Bridgewater is worth mentioning here because he should be a popular free-agent target across the league. In a perfect world, the Saints could tag and trade him. Instead, they can hope for a top compensatory pick in 2021," ESPN's Mike Triplett wrote.
The Saints need help at wide receiver and cornerback and won't have the room to pay three quarterbacks more than a combined $50 million next season. However, it's also a pain for fans to say goodbye to a player that helped save their 2019 season.
A fan favorite in the Big Easy, fans should be happy for Bridgewater who will likely find a new home.
Places like Miami, Los Angeles, and Indianapolis all make a ton of sense for Bridgewater, but it's pretty cloudy as to which teams actually have an interest in giving him that high-value contract.