New Orleans Saints: 3 players to let walk in free agency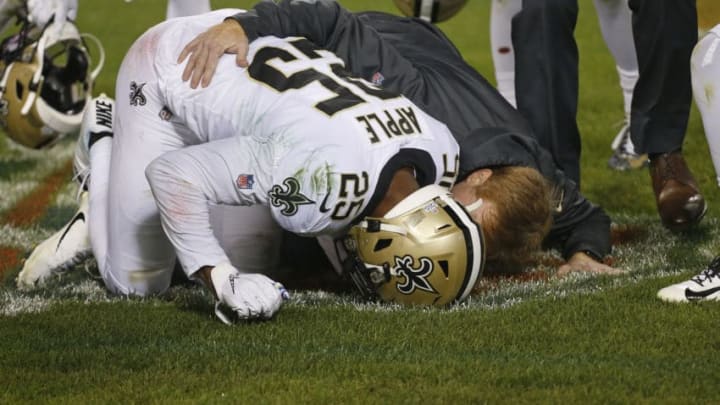 CHICAGO, ILLINOIS - OCTOBER 20: Eli Apple #25 of the New Orleans Saints puts his head down after he was injured on a play during the second half against the Chicago Bears at Soldier Field on October 20, 2019 in Chicago, Illinois. (Photo by Nuccio DiNuzzo/Getty Images) /
(Photo by Jonathan Bachman/Getty Images) /
The New Orleans Saints have been very good at acquiring players through the draft and in free agency over the past few years, but not all players are a hit.
The New Orleans Saints level of play has been top tier recently and that typically means there's not a lot of money floating around to keep everyone on the roster.
Based on the way this year's draft class and free agency look, here are three players the New Orleans Saints should let walk in free agency.
Quarterback, Teddy Bridgewater:
Despite a free-agent class that includes the likes of Drew Brees, Tom Brady, and Phillip Rivers, Teddy Bridgewater just might be the most sought after quarterback in the class.
The 27-year-old former first-round pick by the Minnesota Vikings has proven he can lead a high caliber offense to success. Drew Brees injured his thumb in Week 2 of the 2019 regular season and Teddy Bridgewater filled in as if it was his team all along.
He completed 67.9 percent of his passes for 1,384 yards and nine scores. He also led the Saints to a 5-0 record without Drew Brees and even without Alvin Kamara for a couple of games. His wins weren't against low-level teams either.
Teddy led the Saints to victories over the Seattle Seahawks, Chicago Bears, Jacksonville Jaguars, Dallas Cowboys, and Tampa Bay Buccaneers; all of which had a winning record aside from Tampa Bay and Jacksonville when the Saints played them.
Teddy proved himself this year big time and that's exactly why the Saints will have no choice but to let him walk in free agency this year. Bridgewater is expected to demand 20-30 million dollars in free agency this year and the Saints quite simply can't afford to pay him that much — especially if Drew Brees comes back.
If Brees returns, there are way cheaper options the Saints can sign to develop behind their future Hall of Fame quarterback such as Marcus Mariota, Case Keenum, or Nick Mullens.
The Saints could also look to the draft to fill the need. Guys like Jalen Hurts, Jake Fromm, Jacob Eason, and Anthony Gordon should be available in that third to fifth-round range for the Saints to go ahead and snag a backup signal-caller.
Unless Drew Brees opts to retire, I feel like the Saints will have to spend their money more cautiously and let Teddy Bridgewater test his market this year.