New Orleans Saints are the only team to clinch a playoff berth through 13 weeks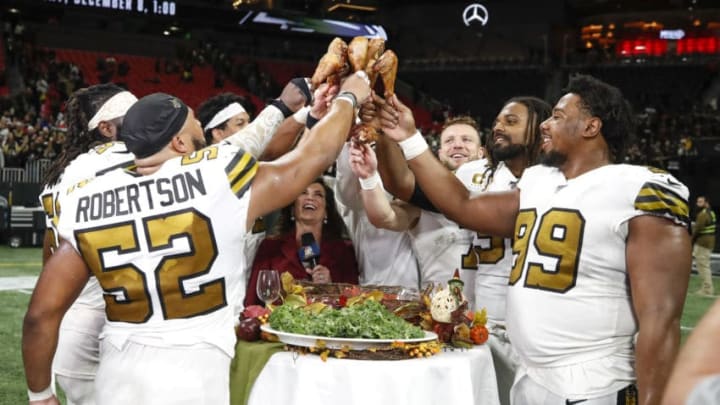 ATLANTA, GA - NOVEMBER 28: Members of the New Orleans Saints celebrate their victory with turkey legs following an NFL game against the Atlanta Falcons at Mercedes-Benz Stadium on November 28, 2019 in Atlanta, Georgia. (Photo by Todd Kirkland/Getty Images) /
The New Orleans Saints have done something no other team in the NFL has done through 13 weeks, and that's to already have secured a playoff berth.
Shooting for the No. 1 seed in the NFC, the New Orleans Saints are the only team to clinch a playoff berth through the first 13 weeks, and they can thank a lacking NFC South for it, although their 10-2 record certainly helps.
That said, the four divisional leaders all get automatic bids, and however bad the division is matters little. It may not be a perfect system as the 6-6 Cowboys are currently one of the four NFC divisional leaders, but it's what the NFL uses.
Much like the NFC East, the NFC South is full of mediocre teams outside of the New Orleans Saints. This is what has allowed the Saints to clinch a berth already. After all, the second-best team in the division is just 5-7 as both the Bucs and Panthers have that record.
Other NFC powerhouses like San Fran and Seattle are both in the same highly competitive division. The Packers and Vikings are also in the same NFC division.
Although they'll likely clinch a playoff berth or be selected for one of the two wild-card spots, they haven't, without a doubt, clinched a spot quite yet.
The Saints have managed to be so dominant with a high-octane offense and a dominant defense. There really isn't a weak unit on this team with wide receiver being one of their more concerning parts and still being led by the NFL's reception leader in Michael Thomas.
It's the depth behind Thomas that is concerning.
Aside from out wide, the team's line on both sides is forceful and their linebacking corp is also among the best in the NFC. While their corners have been tests often this season, they've typically shown up when called upon, limiting players like Mike Evans and Amari Cooper.
If the Saints can enter the postseason healthy, currently with multiple offensive linemen out, they have a real shot at making a Super Bowl run.