New Orleans Saints: Defense will be most important factor vs Bucs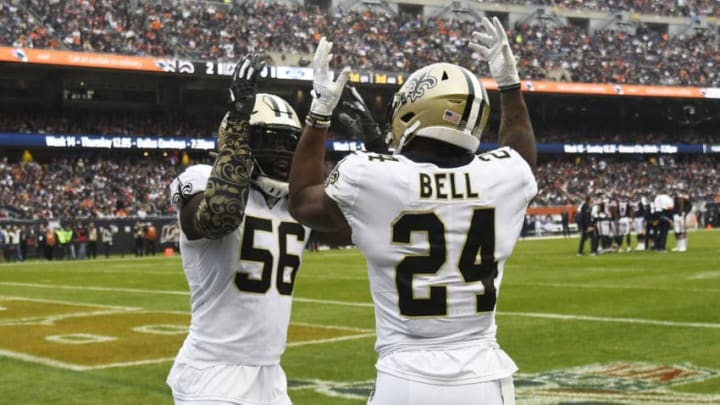 CHICAGO, ILLINOIS - OCTOBER 20: Vonn Bell #24 of the New Orleans Saints celebrates with Demario Davis #56 of the New Orleans Saints after a fumble recovery against the Chicago Bears during the first quarter at Soldier Field on October 20, 2019 in Chicago, Illinois. (Photo by David Banks/Getty Images) /
The New Orleans Saints will face the Tampa Bay Buccaneers without Marshon Lattimore this Sunday, and their defensive effort will make all the difference.
There's no denying that the New Orleans Saints have been one of the most impressive teams in football this season. They've been dominant both offensively and defensively, but many times, the excellence of the two sides does not collide.
Against Tampa Bay, if the Marshon Lattimore-less defensive cannot stop step up, it could spell trouble. After all, Lattimore, a top-five cornerback in the NFL, did hold potential All-Pro receiver Mike Evans without a catch in the two teams' last matchup.
This season, Evans has three games where he's notched 180 or more yards. Those are game-changing and theoretically game-winning numbers. It's the same type of dominance that Michael Thomas displays on a weekly basis.
With Eli Apple and either Patrick Robinson or P.J. Williams alongside him, it could be difficult for the Saints defense to keep up. Keeping the Bucs dynamic offensive at bay has been a problem for New Orleans over the past few seasons, and it could be again an issue in Week 11.
One of the Saints' three losses last season were to the Bucs in Week 1. They gave up 48 points. It was a problem, and in that game, Evans and then-Bucs receiver Desean Jackson combined for over 290 receiving yards.
The Bucs are on a similar tear this season as they ranked third in the league with 28.9 points per game. They are also a top-five passing team in the league. That's how Tampa Bay operates, and it'll be tough to slow them down this time around with no Lattimore.
However, the Saints have the safeties and the defensive line help that, with the right game-changing plays, could make a huge difference.
Vonn Bell and Marcus Williams could decide the game, and although we can hope to see an uptick in production from Apple, it seems that unless the Saints send the double or give help overtop on the bulk of plays, the 6-foot-5 Evans may tear them up yet again.
The defensive effort from Cameron Jordan and Marcus Davenport will also be important.
Overall, looking back on this game, I'd be shocked if we weren't talking about this as the highest-scoring game of the season for potentially both sides.