New Orleans Saints: Could Taysom Hill be a WR?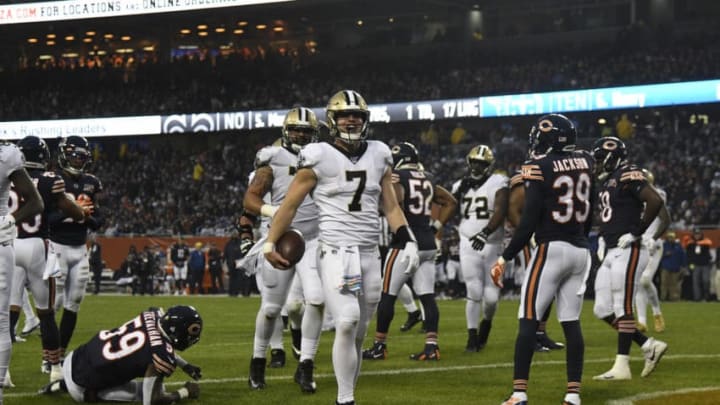 CHICAGO, ILLINOIS - OCTOBER 20: Taysom Hill #7 of the New Orleans Saints celebrates his touchdown against the Chicago Bears during the second half at Soldier Field on October 20, 2019 in Chicago, Illinois. (Photo by David Banks/Getty Images) /
Taysom Hill's 3 receiving touchdowns this year are more than some of the best at the receiving positions.
Is it realistic to assume that New Orleans Saints' Taysom Hill could be used as a wide receiver from here on out to end the season? After all, Sean Payton seemingly only held on to two tight ends because the possiblity of Hill running routes off the line.
At the beginning of the year, I would have thought that this question was hysterical, but it could turn out to be a reality.
In week 8 against the Arizona Cardinals, Hill went for the second-most receiving yards and third-most targets on the team. He caught three balls for 38 yards and a touchdown. That is only behind Michael Thomas (11/112/1) and Latavius Murray (6/55) in yards and targets.
Oddly enough, his touchdowns are more than some of the elite receivers.
To go along with his big game last week, Hill scored his third touchdown on the year.
That is good enough to be better than wide receivers like Larry Fitzgerald, JuJu  Smith-Schuster, Julian Edelman, and Robby Anderson. It is also better than tight ends like Zach Ertz, Travis Kelce, Darren Waller, and George Kittle.
Taysom Hill has caught 8/11 targets for 97 yards and three touchdowns in 2019 so far. In 2018, he was listed as a WR/TE so he has the possibility of being used in a variety of positions. I would love to see New Orleans Saints line up Hill in more three-wide receiver sets at least until Keith Kirkwood or Tre'Quan Smith comes back.
At 6-foot-2, he's a big option for them over the middle.
New Orleans Saints head coach Sean Payton on Drew Brees' return, "With Drew  back you really get two players."
The subtle saying in that quote is that, with Drew Brees back now, Taysom doesn't have to backup Teddy Bridgewater and now he is free to become the Swiss army knife he has the potential to be. After all, his multi-positional playstyle is the reason he's become just a fan favorite in such little time.
He has the possibility to be a TE No. 2 or  WR No. 2/3 in different sets. Seeing what he has already done, there is no surprise that they want him out there in big downs. No one expects a QB to go for more receiving yards than their receivers, but Taysom shocks the world.