Saints are getting outscored 46-19 in the first half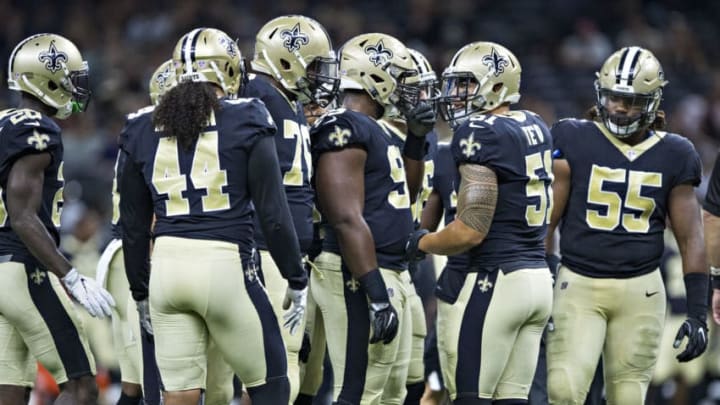 NEW ORLEANS, LA - AUGUST 31: Manti Te'o /
If the Saints want to get a win this week, the first half pattern must be broken.
Both games against the Minnesota Vikings and the New England Patriots have been just about over by halftime. Of course, with Drew Brees behind center, nothing is impossible. That being said, the Saints are stuck in the hotel "The Whole Year Inn" once the second half begins.
As a result, the offense is being forced into a hole, that is seemingly too big to overcome in two quarters. The Saints' opponents have scored 23 points in the first and second quarter. That's a total of 46 points given up over the first two games in the first half alone.
More from Who Dat Dish
No rocket scientist is needed. The Saints are giving up nearly 24 points a game by halftime. Be that as it may, the offense is not keeping pace at all. The Black and Gold have scored only 20 total points in the first half for both games combined. Adding that up leaves a 14 point deficit by halftime. This is a recipe for 0-2.
On the other hand, the sample is only over 2 games, which is only a little over 10% of the season. Who Dat Nation will find out soon enough if this is just a temporary blip of inconsistency early on. Or if this pattern continues, it's going to be a long season.
Still, there are some signs that point to a POSSIBLE upswing soon. And the word SOON is this Sunday. Make no mistakes, this Sunday may as well be the Super Bowl for the New Orleans Saints. Currently, the Saints have a 10.4% chance of making the playoffs according to Teamrankings.com. That's pretty accurate evidence going by recent years. One more hiccup, and the Saints would have maybe a 5% chance to make the postseason.
Next: Payton acknowledges draft misses
Strangely enough, with all these odds stacked against them, the Saints might want to get away for awhile. Going on the road against the Carolina Panthers and Miami in London may be what the team needs. Fans are simply freaking out to put it nicely. The optimism that once was loaded with plenty of winning predictions is now being retracted. And it's only Week 2.
The fact is that none of it matters. The Saints understand that wins and losses in actual time are the only measurement in this league. Positive predictions or negative, the Saints must go out and play to win every Sunday. In my opinion, the Saints get a win on the road against Carolina. They simply have to. Anything can happen in London. The Saints can ill afford to start 0-3 with an international game to decide their season.
Prediction: Saints 27 Carolina 23