Saints rookie LB Devaroe Lawrence Has Already beaten the odds at life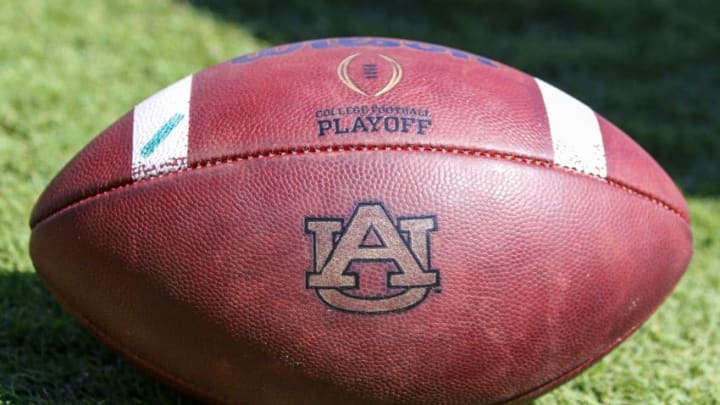 08 October 2016: A football with the Auburn Tigers logo during the Auburn Tigers 38-14 win over the Mississippi State Bulldogs game at Davis Wade Stadium in Starkville, Mississippi. (Photo by Andy Altenburger/Icon Sportswire via Getty Images). /
There are no guarantees for any player that enters the Saints rookie mini camp this weekend. Devaroe Lawrence has guaranteed that he's a winner in a more important area: LIFE
Lawrence's story could've taken on a tragic path. In fact, most people would've succumbed to the unfair hand dealt to him at a young age. But Lawrence isn't like other people. He's a man that has overcome hardships early on to great successes. The best may be yet to come. Currently, he's trying to make an impression on the Saints' coaches this weekend at the rookie mini camp.
Lawrence came from Auburn University where he played defensive tackle. Devaroe Lawrence is a huge physical specimen at 6-foot-3 and 303 lbs. He bounced around from different houses as a child. Additionally, he had a couple of instances where he did some light jail time.
His high school coach Mark Hodge had this to say about Lawrence:
""He's always had the smile of a kindergartener and he was pure and he was innocent. He was nothing malicious. That's Jamal. When I think of Jamal, that's what I think of; so to me he'll always be Jamal.""
Jamal and Devaroe is the same person, make no mistake. Some people know him by his middle name Jamal. Regardless, Lawrence had to fend for himself. His mom was a prostitute which didn't provide much stability. So Jamal had to figure out things on his own. He sold drugs in middle school to get money. Moreover, Jamal was very likeable and plenty of people assisted him in the community to help him along.
""There's people across gyms all over the place in Greenville, South Carolina, that invested in Jamal, that bought him stuff for Christmas, clothes, worked in the gym-people just loved him"- Sam Kelly said (Lawrence's surrogate father). "It's just a whole different thing when you talk about him. It's not hard to find somebody that's invested in his life.""
There's so much more in this story that I linked from an article about Devaroe Lawrence's journey from Tom Green's article from AL.com. Eventually, Jamal would go to Georgia Military College and Carolina Academy to start his career. Eventually, he would go on to Auburn. Before the 2016 season, Pro Football Focus named Devaroe Lawrence one of the top 25 breakout players. Lawrence still goes back to his roots and talks with young men about his road to inspire them. More importantly, he wants to tell them that anyone can overcome. A lot of people will be pulling for him this weekend.
Although he may not make the team, the legacy that he'll leave is much more important than the game of football.