New Orleans Saints Draft: Louisiana Tech's Trent Taylor Could Be Wes Welker 2.0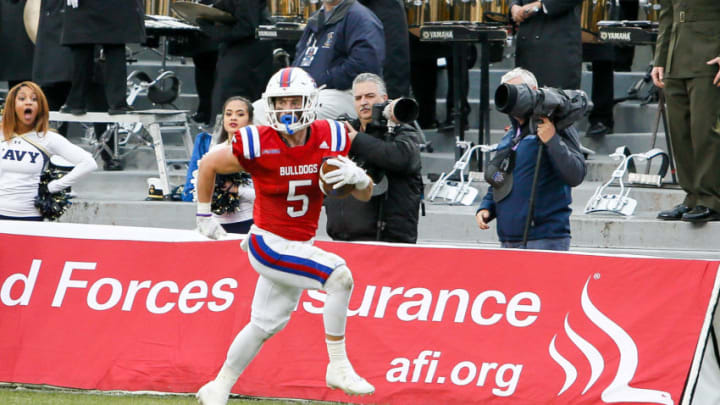 FORT WORTH, TX - DECEMBER 23: Louisiana Tech Bulldogs wide receiver Trent Taylor (5) catches a reception for a touchdown during the Armed Forces Bowl between the Navy Midshipmen and Louisiana Tech Bulldogs on December 23, 2016, at Amon G. Carter Stadium in Fort Worth, TX. (Photo by Andrew Dieb/Icon Sportswire via Getty Images) /
Wide Receiver Trent Taylor Should be drafted. It's as simple as that…
Stop reading this now. Seriously, there's no way you'll believe these stats that WR Trent Taylor has put last year at Louisiana Tech. Trent Taylor caught 136 passes last year! That is not a misprint. And where does that rank him you ask? Well, to put it this way, there's no one above him. Wide receivers like: Zay Jones, Corey Davis, and Dede Westbrook are below him.
Taylor led the NCAA with 136 receptions and 1,803 yards in 2016. That is sick "off the charts" numbers.  He also scored on 12 touchdowns too. So, this guy must be a first rounder maybe second at the worse. Actually that likely won't happen. Actually, there's a pretty good chance that Trent Taylor probably won't hear his name through the full NFL Draft. In my opinion, it's garbage.
The main reason that might happen is size. It's amazing to me still, that size does matter in the NFL scouting world. Trent Taylor is only 5-foot-8 and weighs just over 180 lbs. With all the success of Wes Welker in the NFL, one would think that the size issue is simply an "out of date" way to measure how successful a player will be in the future.
Drew Brees heard this same sentiment his whole career. Russell Wilson is another quarterback that stands under six foot that keeps putting up numbers and playoff wins. Both quarterbacks were pivotal in helping them win a Super Bowl.
So those are just some examples of quarterbacks. How about receivers you might ask? Ever hear of Golden Tate, Randall Cobb, Emmanuel Sanders, Steve Smith, Antonio Brown etc. etc. The list is endless. However, the scouts continue to penalize guys for being so called short.
The Saints are gonna pick a wide receiver. That's almost a given. Trent Taylor could be a great addition in the later rounds. That being said, the more likely scenario will have Taylor coming in as an undrafted free agent. Keep him in Louisiana.