Mayoral Candidate LaToya Cantrell talks NOLA politics and Saints.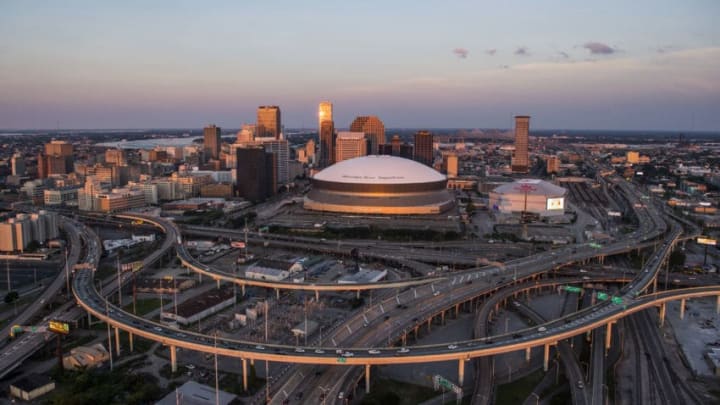 NEW ORLEANS, LA - AUGUST 1: An aerial view of Downtown New Orleans on August 1, 2015 in New Orleans, La. (Photo by Ricky Carioti/The Washington Post via Getty Images) /
"I started taking a serious look at running for Mayor late last year.  Everywhere I have gone people have responded to my vision of a city government that stands up for all New Orleanians and brings them together to solve the serious problems we are facing. 
Yes, I am planning on running and part of my process for making a formal announcement is ensuring that resources and a team are in place when I formally announce. I anticipate making a formal announcement before the end of the month."
There you have it folks. WDD is one of the first—if not THE first media outlet—to sit down and talk with current New Orleans city council member LaToya Cantrell about her plans to run for the highest office in the Crescent City.
Recently, WDD had the opportunity to talk politics as it pertains to "District B" (her assigned area) in the city, as well as her presumed allegiances to the Black and Gold.
Robert Gagnier: What are some of the unique challenges that you continue to face in "District "B"?
Latoya Cantrell:  Affordable housing is certainly one of them, in terms of being a big challenge. We are the second highest city in the nation where people spend at least half or more of their monthly income on housing. New Orleans is a majority rental city, which puts a burden on both homeowner and renter. If you owned a home post-Katrina and lived in a majority African-American neighborhood, you were subjected to get the short end of the stick. According to the Supreme Court, the formula that was used was discriminatory by using the pre-storm value which was factored into the grant award. People are being pushed out of areas that they were previously invested in. Another issue in the city and my district is our growing immigrant population. We need to make these people "our people" and make them feel more welcome in New Orleans. Some of the things that we have done is to try to look at their quality of life which in turn impacts all of us. So I worked with Sheriff Gusman to help adopt an ICE-hold policy to basically end ICE-holds in our city. So I argued for that resolution and he ultimately went forward with it and it became voluntary. I was also a part of the "Welcoming Cities" resolution, which made our city more welcoming and ultimately helped lead to our city landing the latest NBA all-star game.
RG: Council Member, you have experience in education reform. Are you encouraged or discouraged by the current educational system in Orleans Parish, and your district in particular? Some have said that the current educational system in NOLA is the equivalent of a nightmare.
LC: Well, it was a nightmare pre-Katrina. That was when roughly a 120 of our schools were not performing and were below standard in that pre-Katrina environment. In the current environment, I am encouraged. Pre-Katrina I was leading a local education fund and was advocating for traditional public schools. However, post Katrina I had to switch up because we had to fight for neighborhood schools to be rebuilt, meaning we had to charter schools, which in turn led to public aid. Now the transportation bill has gone up, to be sure. We have gone from spending roughly 6 million a year to 33 million a year. However, the reality now is that more kids are traveling all over and more are graduating high school. We have a more engaged citizenry. Parents are a lot more involved in their kids lives, we have more libraries and more people using them, and just a better focus and approach on public education in general. I think that is a great thing. So in comparison to pre-Katrina, we are on the right track.
LC: It was extremely satisfying, but only because we had the full participation of our neighbors and residents. It was a real grass-roots efforts which brought people together, and they planned for themselves. People are the world's greatest experts in where they live, in their own neighborhoods. A listening piece was created, and the residents designed their own plans, which led to Broadmoor being recognized as a national and global model for disaster recovery and continues to be one of the hardest working and successful neighborhoods in the city.
RG: You championed the ordinance to prohibit smoking in bars, casinos, and most public spaces throughout the City of New Orleans. Can you give us an update about how businesses are complying to this day? Is Harrah's Casino on board, or did they get a pass?
LC: Not only have the businesses complied; but they have been more successful because of the ordinance and that has been a proven fact. It was a win-win situation for all involved, and many people still come up and thank me for that particular bill. With respect to Harrah's, there were some initial hiccups with them on the front end as they were concerned with losing money, but gambling across the U.S. is down as a whole. But Harrah's is on board, and all of the employees from the casino workers to the musicians who can now work in smoke free environments in the casino are all winning. So it was a success, and our folks are healthier because we were able to put them on that path with respect to the work place. So Harrah's is now the best smoke free casino in the Gulf-South. Now, since they did ultimately comply with the smoking ordinance, they do have an outdoor patio where patrons can smoke. But overall its been great from workers thanking us about their new work place environment, and Harrah's themselves are doing fine as well.
RG: What are your thoughts about the Confederate statues in New Orleans and the most recent ruling?
LC: Well we need to move forward and decide on whom it is that we want to honor as representatives of New Orleans that reflects our current values and aspirations. I have stated that I hope that this time we have a real process for community engagement and can agree on what we want as our public art and have the people decide. The latest ruling is the city has the right to move forward with removal. The Mayor's office has moved forward asking for bids with the removal process. So that is expected to happen, and leads us to this question: how can we use this as an opportunity to bring our city together? When the matter initially came up, in terms of the voting to remove them, it was so divisive and really struck a chord in people. So, while the matter is drawing toward its conclusion, we can use this as an opportunity to unify the city and move forward.
RG: Alright, this is the Who Dat Dish website after all, which means it's about that time to dive in to the Black and Gold section of this Q&A.
Are you a New Orleans Saints fan, and if so, for how long?
LC: Man I have been in New Orleans now for almost 30 years starting out at Xavier University and hey, how can I not be a Saints fan in New Orleans, and that goes for my husband and nine-year old daughter. We are season ticket holders and were in the Dome when the Saints beat the Vikings to advance to their fist ever Super Bowl.
RG: Who was your favorite player from the past 20 years or so?
LC: Deuce Mc Allister and Steve Gleason would have to be my favorites there because they have stayed in the city and stay dedicated to New Orleans, its culture, and its people. I have to give it up to them!
RG: Who is your favorite player now?
LC: Number 9, Drew Brees.
What do you think the Saints need to go forward and make the playoffs this season?
LC: We need to step up on defense and keep the focus there.
Us here at Who Dat Dish can't agree more. Thanks for stopping by, Councilwoman Cantrell.