From Walk-On To NFL Prospect, Virginia Tech's Sam Rogers Has Grit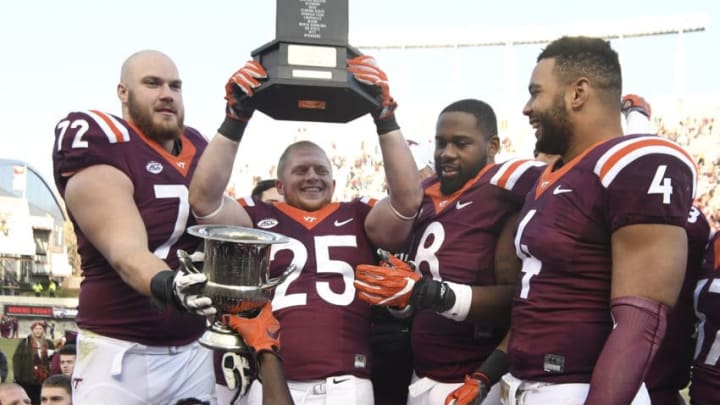 BLACKSBURG, VA - NOVEMBER 26: Offensive lineman Augie Conte /
There was one person that enjoyed The Reese's Senior Bowl more than me. Fullback Sam Rogers smashed his way into the NFL's draft radar.
Attending my first Senior Bowl this past month was one the most enjoyable moments in my life sports wise. Seeing these guys on TV every Saturday battling it out, always topped my list for the week during the college football season. However, when I got on the field, these young men towered over me. The scene seemed to blow me away until something caught my eye. The 15-20 minute opening for reporters to grab players was just too short.
Be that as it may, there was a kid that was just was about my size smiling ear to ear. Ironically, he was one of the few that stood about the same height as me. Rogers almost looked like he surely belonged and was taking in every moment with anyone that wanted to talk to him. There was someone close to me that was also staring at Rogers so I had to ask. 'Who is that guy?' The guy basically responded "Ah That's Sam. He's probably the happiest guy here."
Steve Helber from the Associated Press probably summed it up best.
""I gained some interesting insight when I spoke recently to one of Rogers' high school friends. The friend said during their high school years in Mechanicsville, they would have parties and gatherings at Roger's house. While everyone was carrying on and having a good time (like most high school kids do), Rogers would be endlessly running sprints, lifting weights and training himself in the backyard. This went on until 2 or 3 in the morning. It happened almost every weekend.""
Football must be in Sam's blood. Rogers did come to Virginia Tech as a walk-on, but calling him Rudy would be disrespectful. Rogers will play on SUNDAYS. He's projected to go anywhere from the 5th-7th round. Furthermore, the kid can play. Here's just a couple of clips at Virginia Tech when he ran over an incoming tackler.
Sam Rogers took over at Fullback at Virginia Tech doing anything that was needed. He stands at 5-foot-11 and 231 lbs. Rogers has the ability to make plays on the next level with his BLUE COLLAR style of play. He can also catch balls out of the backfield. If a defender blinks on him, expect a collision and a locomotive crash. Rogers will run you over.
The fullback role is not as glamorous as some of the other positions in football. But Sam Rogers is the perfect fit for the role. The New Orleans Saints may have to at least take a look at him later in the draft. Sean Payton would salivate at having Sam in the Black and Gold. Moreover, there's even more than football that defines him as an individual.