New Orleans Saints Draft: Analyzing The Complexities Of Drafting RB Joe Mixon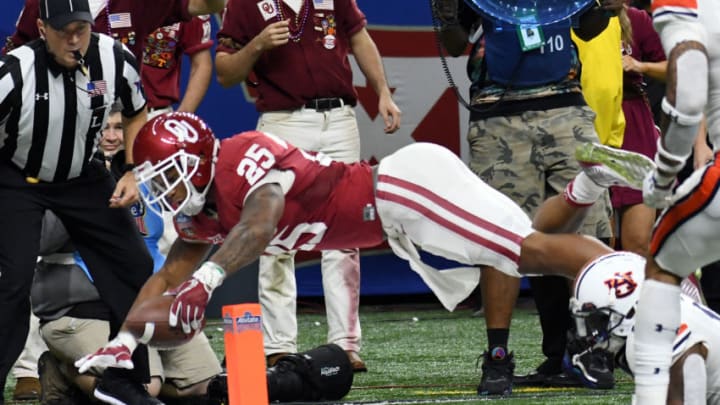 NEW ORLEANS, LA - JANUARY 02: Running back Joe Mixon /
Running back Joe Mixon may or may not hear his name come draft day upcoming. Mixon went to Oklahoma and is ranked near the top for talent on the field. However, an incident on video resurfaced in December that will likely affect his draft status dramatically.
When Mixon was a freshman in 2014, he punched a young woman in the face at a restaurant which broke four bones in her face. Mixon entered a plea to misdemeanor assault and has paid his price legally. The details surrounding the events are out there on many sites and media outlets.
Regardless, the owners and general managers will ultimately have to decide if Mixon is worth the risk. In any case, there is so much to sift through here. There will be a lot of comparison to wide receiver Tyreek Hill, who was drafted last year by the Kansas City Chiefs. Hill was arrested on a domestic violence charge and was not invited to the NFL Combine just like Mixon.
Hill had a breakout year in 2017 and was named First-team All-Pro as a punt returner. Be that as it may, Mixon will have to convince coaches and general managers, that he is a changed man since the incident. The draft experts have Mixon going anywhere from the 3rd round to being undrafted. Mixon will get a chance to showcase his talent either way on Oklahoma's Pro Day on March 8th. Ironically, this is only two days after the official NFL Combine will end.
All things considered, there will be a lot of research and digging into Joe Mixon's character and history. Coaches will want to know if this is a pattern, or was this a one time thing that happened when he was 17-18 years old. Mixon's incident was NOT a domestic violence incident. Arguably, this may or may not matter to some. However, the facts show that this was a horrible act of violence towards a female stranger. No one will condone that.
The question will be asked, if Mixon hit a stranger who was a teammate or even a male stranger would things be different? In my opinion, there is no reason to hit a woman unless your life is at risk. That being said, there is something to say about the double standard. Women are now in the military and are even promoted to fight each other in the UFC. Millions were drawn in to see fighters like Ronda Rousey pounce on other women.
There have been movies like G.I. Jane that shows a gruesome fight scene between a man and a woman played by Demi Moore, that shows the strength and courage of the modern woman. None of this applies to the Mixon case. He simply sucker punched a young woman who didn't deserve the physical and mental suffering from the incident. She is a victim no doubt.
On the other hand, there is something to say about the characterization of women in the 21st century. Would a female collegiate athlete have to face the same scrutiny if she was to punch a male stranger in the same manner? Meanwhile, the Saints do have a need at running back. Will they even consider a player like Joe Mixon? Americans love to see people redeeming themselves after making huge mistakes. Violence on women though is one that seems to cut deep with people on both sides. In the end, it will be up to the owners and coaches.