Saints News
Dennis Allen deserves at least another year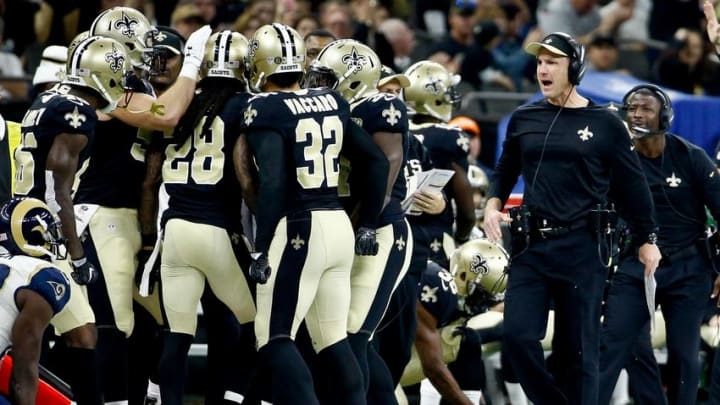 Nov 27, 2016; New Orleans, LA, USA; New Orleans Saints defensive coordinator Dennis Allen (right) celebrates with his team following a defensive stop against the Los Angeles Rams during the first half of a game at the Mercedes-Benz Superdome. Mandatory Credit: Derick E. Hingle-USA TODAY Sports /
The 2016 Saints defense has been far from perfect.
We've given up chunks of yards all season long. It still feels like we have to put up 30+ points to win a game. But despite the generally porous defense, I think most Saints fans will agree that Dennis Allen deserves at least another year at the helm.
For the most part, the defensive performance has been solid. And here's the crucial thing: every week the unit has improved. This defense is playing its best football in the second half of the season, and much of that is due to Allen's leadership.
More from Who Dat Dish
Much of that, of course, also has to do with health. It didn't help that Allen has had to work with a crippled unit, particularly a crippled secondary. It's almost shocking to remember just how decimated this secondary was at the beginning of the year. P.J. Williams, Kyle Wilson, Keenan Lewis, Damien Swann. Remember those guys? At least Delvin Breaux is back.
The Saints were suddenly left with two UDFAs and a couple of bargain-bin, last-minute FA pickups at corner. And yet, somehow, this unit has been somewhere close to respectable. How long has it been since we could say that?
I don't know if we have Jeff Ireland or Dennis Allen to thank for B.W. Webb and Sterling Moore, but my god, where were those guys last year? Why couldn't the Saints find quality defensive players in FA? My guess is, both of these guys have something to do with the solid evaluations taking place in the new Saints front office.
Dennis Allen's Performance
Most fans will agree that the most remarkable thing about Allen's defense is how well it responds in the second half of games. Allen truly has a great feel for defensive adjustments, for the ebb and flow of games. He gives the team a shot, every week, by clamping down in the second half. The Rams game was a great example.
Aug 26, 2016; New Orleans, LA, USA; New Orleans Saints defensive back Roman Harper (41) talks to defensive coordinator Dennis Allen in the second half of the game against the Pittsburgh Steelers at the Mercedes-Benz Superdome. Mandatory Credit: Chuck Cook-USA TODAY Sports /
The Rams game was a great example. Jared Goff comes in absolutely killing it, making difficult throws, good reads, all while remaining calm in the pocket. And the Rams, embarrassingly, put up 21 points in the first half.
But after halftime adjustments, the Rams struggled to find ANYTHING on offense. They finished the second half with 60 yards.
Of course, the defense hasn't finished every game like that. We've also given up chunks of yards late in games. In the first Panthers game, for example, Carolina put up 21 points in the fourth quarter. There's no silver lining on a performance like that.
But there is a silver lining when you look at the bigger picture.
The issues that plagued the team in that game, and in many games, have been corrected. And that's all you can ask for with a unit this young and, frankly, unproven. Positive improvement.
Next: Playoffs or not, this Saints team is fun to watch
If we see busted coverages, they're fixed the next week. Missed tackles? Fixed by the next week. One week the pass rush might flounder, and the next it comes to life. One week we get run over, and the next week nothing gets through the front seven.
It's remarkable. And it's earned Dennis Allen at least one more year to get this defense to where I, at least, believe it can be. Near the top of the league. He's a good coach, and I'm glad he wears black and gold.