Saints Discouraging In Third Preseason Game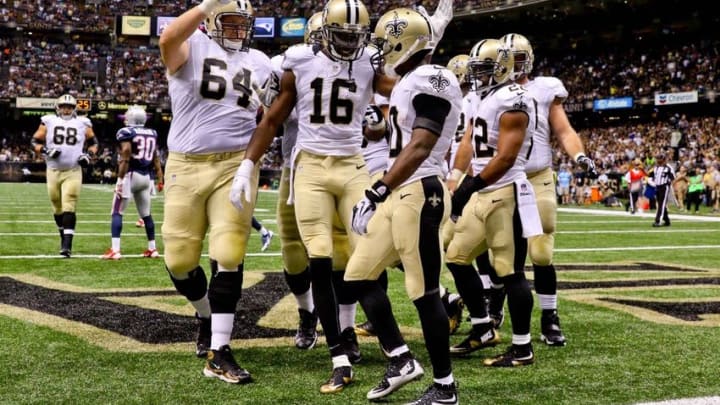 Aug 22, 2015; New Orleans, LA, USA; New Orleans Saints wide receiver Brandin Cooks (10) celebrates with teammates wide receiver Brandon Coleman (16) and tackle Zach Strief (64)following a touchdown against the New England Patriots during the second quarter of a preseason game at the Mercedes-Benz Superdome. Mandatory Credit: Derick E. Hingle-USA TODAY Sports /
The Saints aren't looking to good this  preseason. In fact, they've been pretty bad.
Disheartening.  Discouraging.  Disturbing.  The New Orleans Saints through three preseason games have not only not come away with a win, but have played a game with which Saints fans are not familiar.  Sean Payton teams have been known for dynamic offenses and mercurial defenses.  In Friday night's game against the Pittsburgh Steelers, there wasn't much of either.  If the preseason is an indicator of things to come, Saints fans might be looking at a long season.
The Saints offensive woes continued into this third game of preseason with the offensive line looking only marginally better than they had in the prior contests.  Drew Brees connected on a touchdown pass to a leaping Willie Snead at the back of the end zone for the most offensive excitement of the preseason from our first unit.  The offensive line has been much maligned in the press through the first 2 games.  Production has been sparse and there have only been glimpses of solid play.  There was marginal offensive line improvement Friday night against Pittsburgh, particularly run blocking.  No one will say the Saints offensive line blew holes open, but the ground game did show signs of coming off life support.  The pass blocking left Saints quarterbacks running for their lives for a good portion of the evening though.  The Steelers only had one sack, but each of the Saints QB's got hit hard at least once and there were more than a few hurried throws.
Defensively the Saints took an obvious step backwards.  No doubt there is a difference in playing perennial playoff contender Pittsburgh as opposed to offense challenged Houston.  But the Saints defensive line not only didn't get any pressure up front, they didn't hold ground well either.  Pittsburgh didn't rush tremendously well – they gashed for a few big runs, but overall their running game was quiet.  But their first unit moved the ball on the Saints at will and with their second QB and into their second unit, they still moved the ball well.  The Saints linebackers had previously been very solid but on this night they weren't as sharp.  The defensive backs had been helped by decent pressure up front in the first two games.  Friday, they weren't terrible but they weren't consistently good.  They kept a lot of plays in front of them, only getting burned badly once.  But Pittsburgh did a great job of finding and exposing the holes and soft spots in our defense.
The third phase of the game, special teams, hasn't been discussed much, but this group has seen some improvement.  Kickoff cover has been decent and kickoff return has been at least average.  Last night it took a step backwards as everything else did, but overall, all returners have been fair.  Punt and punt cover remains one of the strongest suits of the team.  Thomas Morstead is simply one of the top punters in the league and his presence consistently gives us a chance to pin teams deep in their territory.  If we have one glaring weakness it's punt return, where we muff punts and never seem to ever break for more than a few yards.  Both of our kickers have done well in preseason with field goals and Payton's history with kickers is well known – he's got a short leash.
Aug 26, 2016; New Orleans, LA, USA; Pittsburgh Steelers running back Daryl Richardson (38) is tackled by New Orleans Saints cornerback Cortland Finnegan (21) during the second half of a preseason game at Mercedes-Benz Superdome. The Steelers defeated the Saints 27-14. Mandatory Credit: Derick E. Hingle-USA TODAY Sports /
Where does this point us? We play our final preseason game Thursday against the Baltimore Ravens. Traditionally the starters only make a cameo appearance in the final preseason game. They give way to the guys who are still looking for roster spots early on. So we won't really get much an idea from this point until September 11 against Oakland in the Mercedes-Benz Superdome as to how this team improves. An overwhelming and disturbing thought occurs: The offense has been getting beat in practice by the defense, a defense which we saw Friday night while improved still has strides to make. If man to man they can't compete against and beat the man in front of them, we are in trouble. So far that has seemed to be exactly the case. That's very discouraging for fans of a team that has consistently been a top 6 offensive producer for the last 10 seasons, and a disheartening thought as we prepare to open the 2016 campaign.