How Saints Fans Can Help the West Virginia Flood Victims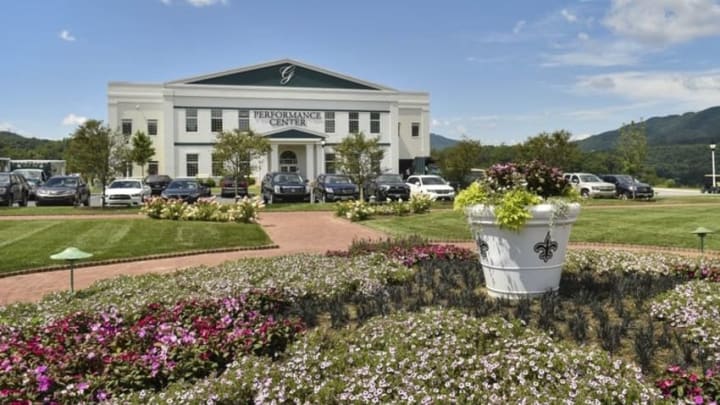 Aug 3, 2015; White Sulphur Springs, WV, USA; A general view of the New Orleans Saints training camp facilities at The Greenbrier. Mandatory Credit: Michael Shroyer-USA TODAY Sports /
This week's floods in West Virginia have been devastating, killing dozens of people and taking homes and power from thousands of others.  Americans local to the tragedy and nationwide have taken action to help the victims however they can.
The latest word from the New Orleans Saints is that they still intend to hold part of their summer training camp at the Greenbrier Resort Sports Complex for the third year in a row.  It makes sense to return because the economic impact relocating a multimillion-dollar football team and the hundreds of staff, media reporters, and fans to a distant part of the country is so valuable.
By all accounts, the locals have taken to the Saints enthusiastically.  The Saints have also pledged to assist in flood relief and recovery, which is a great gesture.  You can read the team's full statement here.
It wasn't so long ago that New Orleans suffered similar environmental loss from Hurricane Katrina and Hurricane Ivan.  There are many people working in the Saints facilities and even on the roster – like cornerbacks Keenan Lewis and Delvin Breaux, rookie runningback Daniel Lasco, and guard Cyril Lemon – who saw firsthand what kind of damage nature can do to people's lives.
Not to mention the fans who lived through it.  If you're reading this, you know someone who lost it all to the storm in 2004.  You may have suffered greatly yourself.  My family missed the brunt of the storm but lost our barn, our livestock, and nearly our lives.  Everyone on the Gulf Coast was afflicted.
But this isn't about us.  The point is that we can emphasize with the people of West Virginia like few other communities.  We've been where they are now.  The Black and Gold team we all love has thrown its weight behind West Virginia, and so should we.  If you're inclined to donate to help the flood victims, here's the best links to do it:
If you're interested in reading more and exploring more options on helping West Virginia, follow along here.