Saints Weekly Calendar for May 30, 2016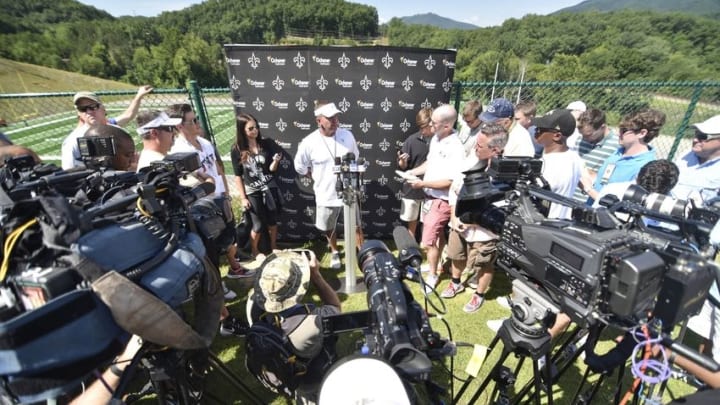 Aug 3, 2015; White Sulphur Springs, WV, USA; New Orleans Saints head coach Sean Payton answers questions from the media following training camp at The Greenbrier. Mandatory Credit: Michael Shroyer-USA TODAY Sports /
The big flashpoints of the NFL offseason like the start of free agency and the NFL Draft have come and gone, but there's still ongoing action in the weeks leading up to training camp.  Let's take a look at what the New Orleans Saints will be up to this week:
The most important event in Saints news this week is probably the same as last week:  Organized Team Activities, or OTA's.  These practices are played without pads, contact, or full-speed running.  They're important for installing the playbook and seeing how the new rookies and free agents are fitting in with their teammates, but there's only so little to be learned given the restrictions on pads and play speed.
This week's Saints OTA's will be held at the team's practice facility in Metairie on Tuesday May 31st, Wednesday June 1st, and Thursday, June 2nd.  One of those practices will be open to the media so we can expect a press conference led by head coach Sean Payton and various reports afterwards.
More from Saints News
Last week's media-open practice was assigned on Thursday, but it hasn't been announced which session they will be able to attend this week.
In the past the Saints have closed out OTA's with some kind of outdoors team-building activity; recently it was competitive paintball in Mandeville, which included former running back Khiry Robinson taking a shot to the dome.  The Saints have also gone fishing in the Gulf of Mexico and hit up go-cart courses, so we'll wait and see what they go with this summer.
Another date to monitor on the Saints' calendar is June 1st.  The team designated notorious penalty-machine Brandon Browner as its June 1st cut this year, which frees up about $2.25-million in 2016 salary cap space.  Last year's free agent signee and defensive captain has been a terrible marriage with New Orleans, so this will effectively be the end of that failed relationship.  Browner has since returned to the Seattle Seahawks, his first NFL home.
Credit: Crystal LoGiudice-USA TODAY Sports /
What could having some more spending-money in 2016 mean for the Saints?  Most difference-makers have already signed on with new teams since free agency opened up in March, but there are still some interesting names left out there.  The Saints have found starters at this time before, like nose tackle Brodrick Bunkley and center Jonathan Goodwin.
The Saints signed veteran receiver Vincent Brown last week, but that's hardly an inspiring add.  The 27-year old didn't deliver as a third-round pick in San Diego before playing a handful of games in Oakland last year.  He's a longshot to beat out younger options like Brandon Coleman for a roster spot.
Maybe with the new funds from Browner's release finalizing the Saints will target another veteran pass-catcher.  Anquan Boldin led the San Francisco 49ers in targets (111) and catches (69) last year, but he's 35-years old and probably running on fumes.
Credit: Jerome Miron-USA TODAY Sports /
The team could be looking to find a veteran guard after missing out in free agency and the draft.  One name that has drawn attention is Dallas Cowboys guard Ron Leary.  Leary, a former undrafted free agent, was a strong starter for Dallas before sitting out with an injury last season.  That opened the door for La'el Collins to seize a starting job.
Leary and Collins both should have been high draft picks, but fell to undrafted free agency for different reason.  Collins was abruptly involved in the investigation into the murder of a former girlfriend right before the draft, though he was cleared of any involvement and his agent finessed his way into a great landing spot.
In Leary's case, a college meniscus tear revealed a possibly degenerative knee condition.  Similar to what Jacksonville Jaguars linebacker Myles Jack was diagnosed with, there is a risk that the cartilage in Leary's knee could fail someday – though it hasn't yet.  Leary hasn't had any trouble from the knee as a pro and his 2015 injury (groin) was unrelated.
With former first-round pick Zack Martin holding down the other guard spot, there's no room for Leary to start in Dallas.  Because of that he chose to skip the Cowboys' own OTAs last week and formally requested a trade to another team.
Will the Cowboys trade Leary?  Nobody knows.  They shouldn't expect to get more than a fifth-round pick for his contract in compensation, and the Saints already traded their fifth-round pick in 2017.  But with frustration building on both sides as the Saints struggle to find a pair of starting-quality guards and the Cowboys waste resources on a player who wants to be somewhere else, maybe the two teams could reach a compromise.  We'll just have to wait and see.