New Orleans Saints: What to expect from the 2020 draft class moving forward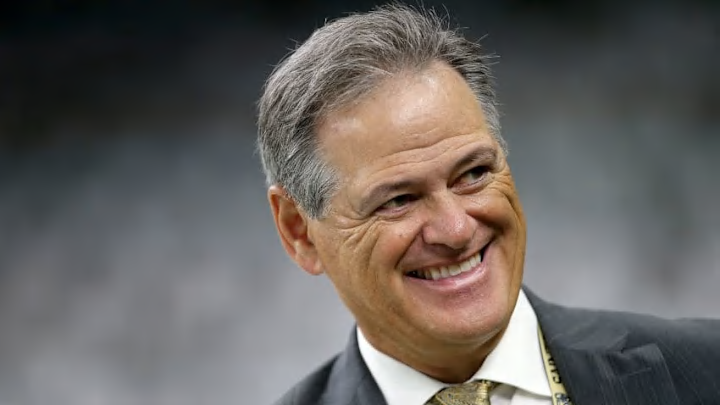 NEW ORLEANS, LA - SEPTEMBER 11: New Orleans Saints Vice President and General Manager Mickey Loomis walks on the field during pre-game at the Mercedes-Benz Superdome on September 11, 2016 in New Orleans, Louisiana. (Photo by Sean Gardner/Getty Images) /
(Photo by Christian Petersen/Getty Images) /
TE Adam Trautman, Third-Round Pick
Rather than keep their Day 3 picks, the Saints essentially sacrificed the rest of their draft class to be able to draft Dayton tight end Adam Trautman. Considering the low level of competition he went up against, this was a risky decision. Yet, I'm bullish about Trautman's future outlook.
Albeit against inferior competition, Trautman's 94.2 overall grade ranked No. 1 among all college tight ends. Additionally, he displayed the ability to play a versatile role, whether it's as an in-line tight end, in the slot, or even out wide.
His body frame (6-foot-6, 253 pounds) is exactly what you would create if you were to build a tight end out of a lab, which explains why he is cited as being both an excellent blocker and a very physical receiver.
This season, due to the injury of tight end Jared Cook, Trautman has played more than expected (66 total snaps).
For the most part, he has not made much of an impact, yet the growing curve was always going to be substantial for him coming from Dayton. Thus, once Cook comes back, I'd expect him to serve as the third tight end.
The future, however, is much more exciting when discussing the impact Trautman can have on the Saints. Cook's contract is up after this season, and with New Orleans tight on salary-cap space, it is unlikely that they are able to retain him.
Fortunately, Trautman's physicality with the ball in his hands should make him a major threat when it comes to the intermediate passing game, while his contested-catch skills will allow him to be a threat in the red zone.
Those are two very key roles for a tight end to fill in Sean Payton's offense, which I assume is why he coveted him.
Outside of Jimmy Graham and Cook, the Saints have failed to receive consistent production from their tight ends. They are hoping that Trautman can change that, and I am no reason to believe he will fail to meet those expectations.
Present Impact: Third Tight End
Future Impact: Exact Prototype of what Sean Payton wants from his tight ends