3 reasons Tyler Eifert may be the New Orleans Saints priority target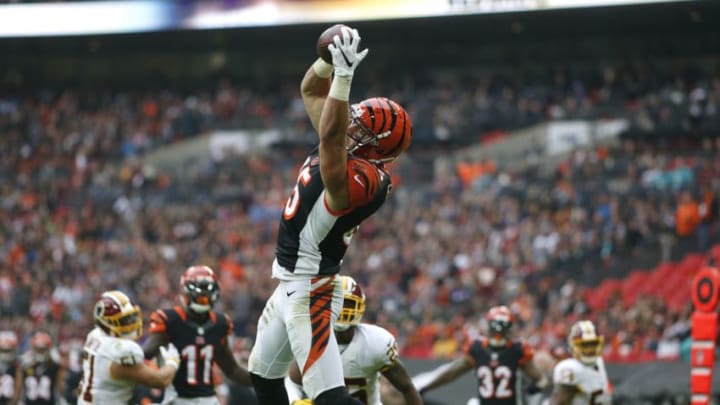 LONDON, ENGLAND - OCTOBER 30: Tyler Eifert #85 of the Cincinnati Bengals catches a touchdown pass during the NFL International Series game against the Washington Redskins at Wembley Stadium on October 30, 2016 in London, England. (Photo by Alan Crowhurst/Getty Images) /
(Photo by Kevin C. Cox/Getty Images) /
Tyler Eifert, the Cincinnati Bengals starting tight end, has been floated in many rumors to be linked to the New Orleans Saints as the trade deadline approaches.
Tyler Eifert is known by many NFL viewers as the guy who scores touchdowns frequently, but only if he's healthy enough to be there to do it. This wouldn't be an unfair assessment of the tight end at all, and the New Orleans Saints know it.
From 2016 to 2018, Eifert only played in 14 total games, missing 34 to injuries. It hasn't just been one injury either but an array. However, so far this season, he's played in all seven of the Bengals' outings, although his impact has yet to help the team win.
That said, the Saints may in the business of finding another playmaker this deadline. They're one of many as the Patriots and 49ers have also brought in addition threats on the edge. Eifert wouldn't necessarily be a speed demon, but he would be an elite endzone threat.
In the season prior to his injury frenzy, he secured 13 touchdowns and 38 first downs. If the Saints can get even a fraction of that production they may be happy. But, there is a risk with adding Tyler Eifert.
Despite being injury-plagued most of his career, there are three reasons why the New Orleans Saints should take a chance on Eifert.