New Orleans football fans need our 500 TD Club t-shirt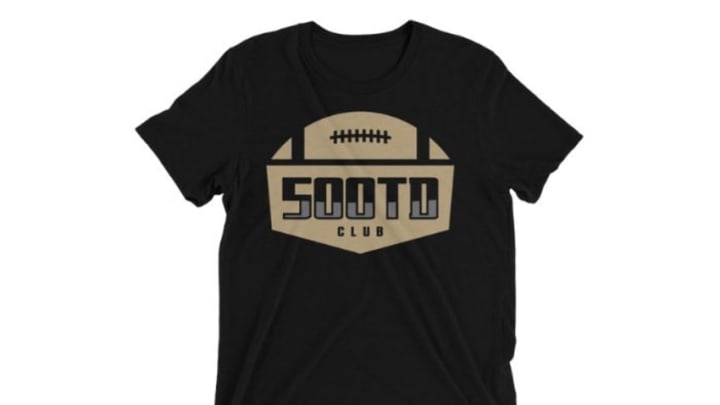 FanSided Swag Shop /
New Orleans got to see another milestone on Sunday. A whopping 500 touchdown passes. So you know it's time for a t-shirt.
After starting the season with a loss, New Orleans has ripped off five-straight victories. And the star quarterback is continuing to make history. Just a couple weeks after becoming football's all-time leading passer, he joined the 500 Touchdown Club.
He's just the fourth player to do so.
So you know we had to get together with the FanSided Swag Shop to create an awesome new t-shirt. 
Check it out below.
FanSided Swag Shop /
This shirt is available in black, gray and gold – so there's a color for every New Orleans fan. It's made from a premium tri-blend of cotton, rayon and polyester – which means this thing will have you looking good and feeling good.
It retails for just $24.99 and is only available at the FanSided Swag Shop, so you know where you need to go to pick one up.
But we can help you save a little money, too.
To save 15% on your next purchase at the Swag Shop, just sign up for our newsletter.
Subscribe to the FanSided Swag Shop newsletter to get exclusive discounts, sale notifications and the newest products in the shop, directly in your e-mail! 
Get an awesome t-shirt, save some cash, tell the world you're a New Orleans fan. There's nothing not to love about that.
So don't wait. Head on over to the FanSided Swag Shop today to order your brand new 500 TD Club t-shirt.